Homeless counts have started throughout Southern California to tally up the number of people without a roof over their heads.
KPCC correspondent Rina Palta shadowed some volunteers in Van Nuys for the first night of L.A. County's three-day census.
They walked around with sheets and tallied every person they came across. That's added to information about how many people are currently living in shelters.
Last year's count found more than 47,000 people are without a home.
What she saw
There were lot of encampments, many of them filled with very young people – 18- to 27-year-olds – living side by side in little structures they'd built along the sidewalk.

Some of readily said they were drug addicts or struggled with mental illness.

A couple of young men I spoke with said they'd moved to Van Nuys from South Central L.A. because they felt safe there.

"People in society kind of look down upon us," said Frank Taylor, 18, "but like us, out here, we're more civilized than people think."
How this information will be used
It's for federal funding from the Department of Housing and Urban Development. They base their allocations partly on the level of need, and obviously the level of need in L.A. is quite high.

This is also for local officials figuring how to allocate local resources.

Should L.A. County's measure H pass in the upcoming March election – which is a 1/4 cent sales tax for homeless services – where and how that money gets spent will at least partially be determined by the results of this count. 
Officials are looking for special information
Really, what they're looking for is more specific demographic information.

The homeless count is really an opportunity not just to see how many people are out there, but who's out there and why.

"There's more females, more and more," LAPD Officer Saul Guardado told me.

He says that's important to know because women on the streets generally have it tougher.

Being able to count that there are more women on the street now, and then tailor the demographic survey to really get a sense of why they're out there, is really helpful in figuring out what resources are needed and where they are needed.
Some counts are using technology to get more accurate numbers
It can be particularly hard because this count is at night and it's difficult to see and find people during that time. But more and more you see counties doing advance work.

Some will try to scour the streets during the day and prior nights and then make sure counters hit those spots.

Orange County uses thermal imaging devices from helicopters to find hidden areas where people might be living in, and then will send census takers to those areas.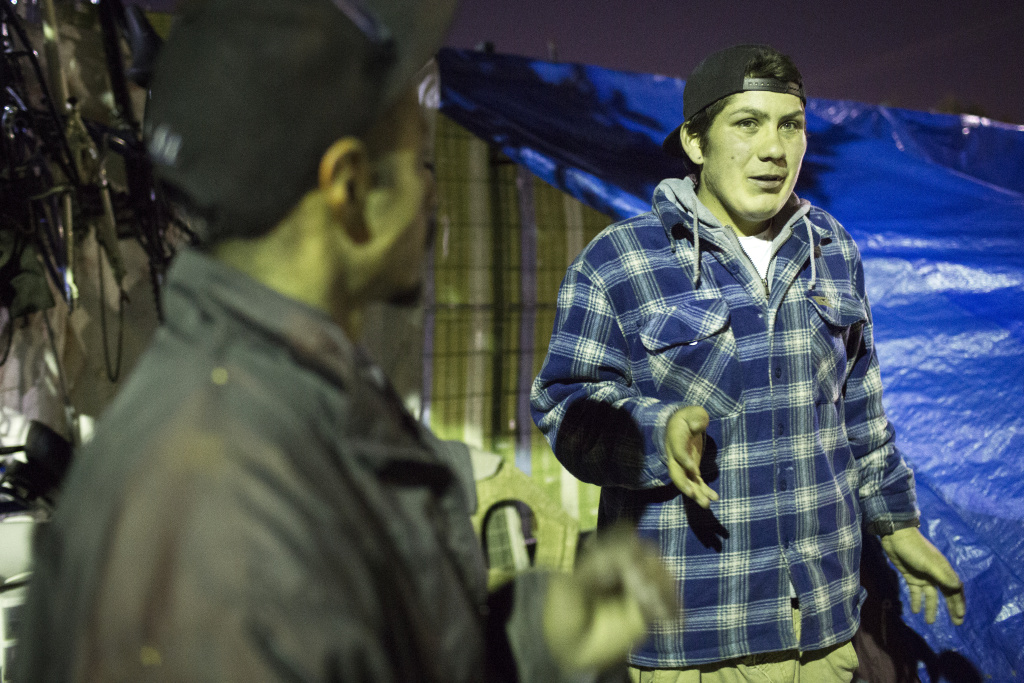 If numbers tick up, is that because the homeless population's increasing or these counting strategies are more effective?
That's a good question.

There's so much attention to the numbers in these counts as a barometer of how well L.A. is doing on tackling homelessness.

Mayor Eric Garcetti was out counting last night and he told me, "There's probably a huge margin of error in these counts. Five or ten percent up or down may actually be the margin of error. But when there's a 75 percent increase on the streets, it's undeniable and that's what we see with tents everywhere."

There are also a few weird elements to the count this year, too. 

It's obviously been raining a ton and it's cold. Some of the riverbeds, where some homeless usually live, have been flooded.

So it's possible we'll see more people in shelters this year than in the past simply because of the circumstances of this point in time count. 
L.A.'s count was one every two years, but will probably be an annual event now
Local officials know that this is people's number one issue.

They're also investing huge sums of taxpayer dollars into trying to house the homeless and get them off the streets.

So they're going to want this annual count to basically get a sense of how they're doing.