Rich Harbour still remembers the first surfboard he made.
"It was terrible," Rich told Take Two's A Martinez. "There was no how-to guide at the time. A 16-year-old kid making a board with no instructions. You can imagine."
This was back in 1959, but Harbour was undeterred. He decided to make himself another surfboard a few months later.
This time, his creation lived up to his already high standards.
"I looked at every professionally-made surfboard I could see to analyze how this thing was made. What steps did they do that I didn't?" Harbour recalled. "Number two turned out good! Turned out so good that I had kids asking me to make them one."
And so began a lifelong passion that spans almost 60 years.
Building boards at one place for decades
Harbour started making and selling surfboards out of his parents' garage. Eventually, he expanded his business in 1962 by buying a shop in Seal Beach.
He named it Harbour Surfboards.
"We've been making surfboards in this building ever since," Harbour said. "There is nobody in the world, that I know of, that can say that. That's the longest in one address."
When you first walk into Harbour Surfboards, it looks like most other beach shops. There are T-shirts and beach paraphernalia, surfboards along the ceiling – a lot of things that would be expected.
But walk further back and you'll see a surfboard workshop. Boards sit along the wall in various states of completion. 
To the left is the cutting and shaping area; a metal holder sits in the middle of the room where surfboards will lay flat when they're brought in for sanding.
Harbour's tools sit to the side, waiting to be used on the next board that'll be brought in.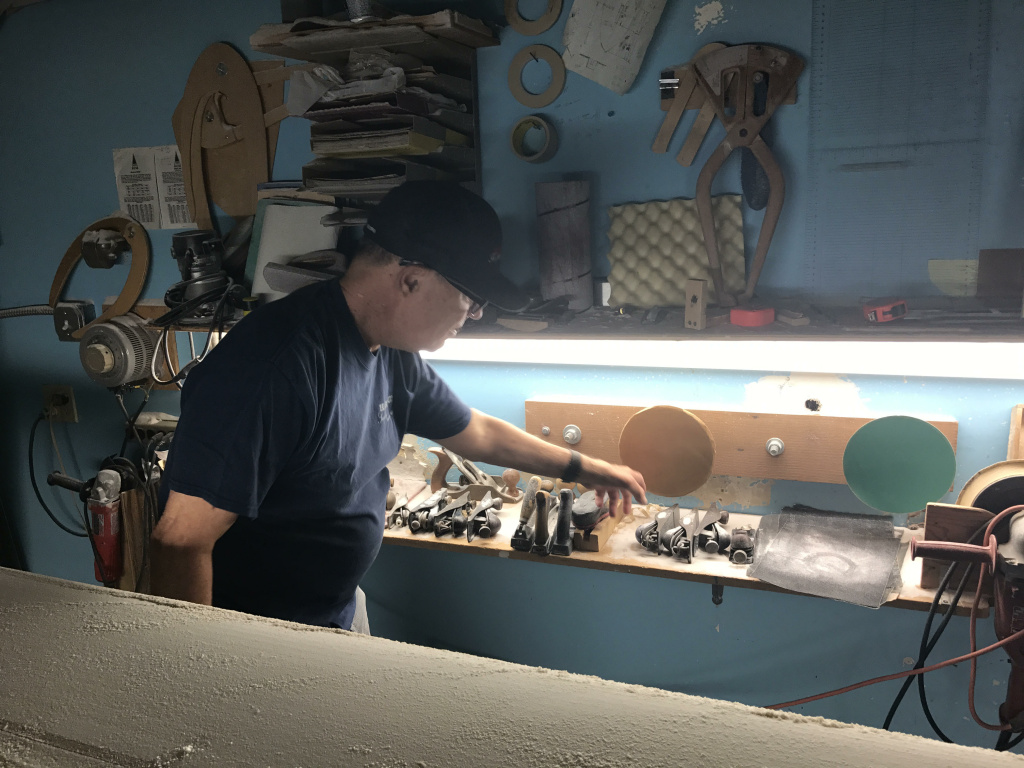 "We used to do the whole thing here," Harbour said. That included applying fiber glass to the boards right after the shaping process was done. "The city finally came to me one day in 1992 and said 'Rich… this stinks too much. You can't [apply] fiber glass on Main Street in Seal Beach."
But Harbour wants to work as close to home as possible. He loves making surfboards.
"I got so taken with this process that I loved it more than I did surfing," he said. "I would love to be, when I'm gone, recognized as one of the better craftsmen that's ever been in this business."
Affecting others through his work
As Harbour has gotten older, it has been more difficult to be directly involved in the surfboard creation process.
"I don't do this every day anymore," Harbour said as he finished sanding a blank board. "I'm exhausted."
Arthritis in his hands and shoulders makes it tough to continuously smooth out the boards in his shop. His back does not allow him to stand for as long as his work requires, either.
"I miss it 24 hours a day. I would love to be in here all the time," he said.
But love of the craft aside, Harbour is grateful for the opportunity to make such an impact on others.
"The reward is making people happy. What greater thing can I do?"
Rich Harbour is the subject of a new exhibit at the Surfing Heritage & Culture Center in San Clemente.
To hear the full conversation, click the blue player above.