When it comes to the California bail system, there's a lot to unpack. But sometimes the simplest way to understand something is to put yourself into the situation and go through the motions... virtually.
Take The Bail Trap, from Brave New Films, a nonprofit that uses all forms of media to focus on social justice. It's an 8-bit video game that lets you "play" the bail system from three different perspectives:
Kevin is a 35-year-old IT manager. He's white.
Theresa is a 19-year-old college student who's African American.
Julio is a 42-year-old construction worker.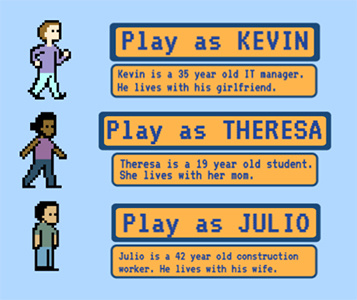 All three characters were arrested for their involvement in a shoplifting incident. But what happens to them afterward couldn't be more different.
Ready to play? Take Two's Lori Galarreta gave "Bail Trap" a try.
Big takeaways
The Kevin experience was the dream. With $400,000 in savings at the time of his shoplifting arrest, paying bail and hiring a private lawyer was a piece of cake. 
Theresa was another story. She was in jail for eight days before she was able to make her $500 savings grow to the $2,000 she needed for a bail bond down payment. By the end of it, she had no job, no car and would probably have to retake her last semester of school.
Playing as Julio was by far the bleakest experience. With only $50 in his savings and no financial support from friends or family, he's forced to take a plea deal which tarnishes his record with a felony. The felony causes him to lose his job and public housing.
It's clear the message this game is trying to send is that this system disproportionately favors those with money.
Why would Brave New Films make this game?
Tara Vajra, Brave New Films' head of production, explained the game was part of a bigger effort the nonprofit was working on.
"Last year we embarked on a larger campaign about bail and bail reform," Vajra said. "So the game came about as a way to also try to give an experience of how frustrating and how unfair bail is to people who don't have money."
Designer Emilia Larsen came up with the premise of the three experiences, Vajra said. 
"We came up with the three different storylines, roughly based on the real stories that we were coming across in our research. And I think the most shocking thing for us that we really wanted to highlight was ... if you do have money to pay your bail, you get it all back when you come to your court date. It actually costs you nothing. 

However, for the other two stories, for Theresa and Julio, who are based on real people that we interviewed ... they don't have that amount of money so it ends up costing them so much more for the same privilege to just get out and live their lives."
So just to be clear, this game is not for fun. It's an engine of empathy, designed to shine a light on the bail experience. 
"We know that bail is not a game. It's not something we're trying to make light of in any kind of way, quite the opposite. We are trying to make it accessible and informative in a new kind of packaging. In a way that people might be interested in actually learning about and learning through.

Bail seems like something we all assume we might know about, but the reality is that there's so much more that we probably aren't aware of in terms of how egregious it is unless you've actually been through it yourself."
To listen to the full segment, click the blue play button above.