Claudia Armendariz recalls the first time her grandfather Celestino Lopez took her to visit his stall at Grand Central Market.
"One thing I do remember from the market is the sawdust on the floor," she says. "It's weird coming in here and not seeing the sawdust anymore because since I was a little kid, that was the one thing that made the market 'the market.'"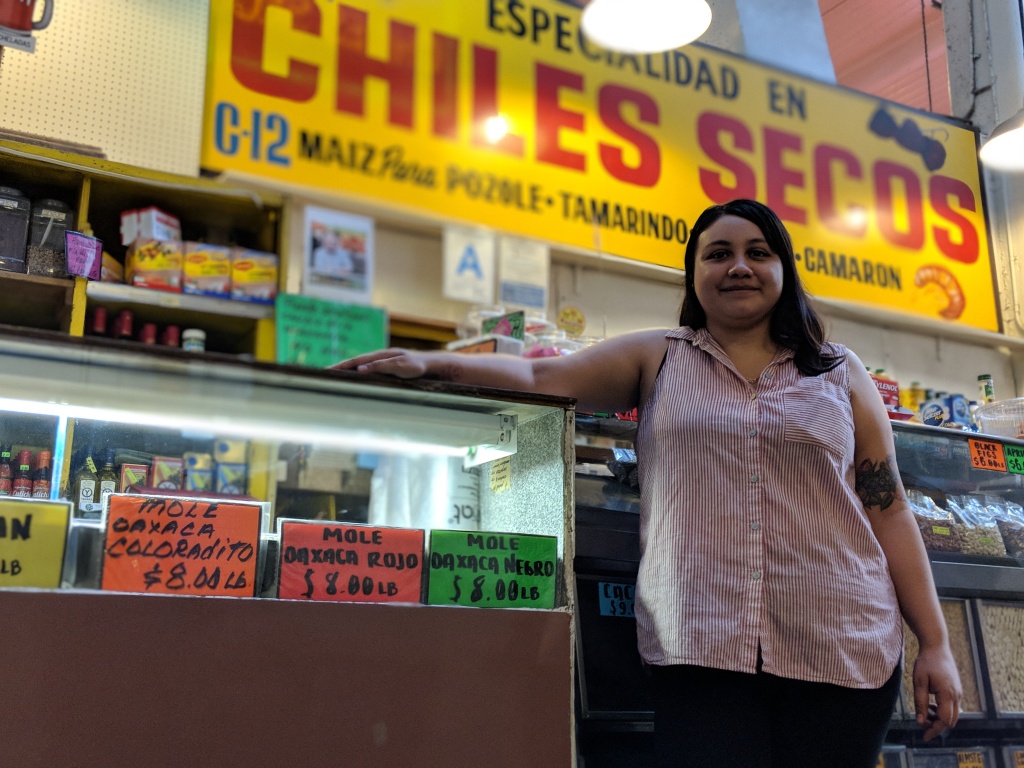 Lopez opened Chiles Secos in 1975 to sell Latino groceries at time when Grand Central Market was still about getting eggs, flowers, fresh fish and more.
"Back then it was more of a 'locals-only' place," says Armendariz, 32, who has run the stall since Lopez passed away in 2008, "but now, it's a destination."
In just a handful of years, the market has transformed into a trendy food hall selling artisanal cheeses, handcrafted peanut butter and jelly sandwiches, vegan ramen and more.
But Chiles Secos is one of the long-time vendors that has held on through the changes, and Armendariz says she welcomes all the newcomers.
"This has always felt like home that I never feel pushed out," she says. "Whenever we have a new vendor come in to the market, we always go over there and introduce ourselves."
The stall sells a variety of goods like dried pintos, chiles and canned hominy.
A highlight, though, is the selection of molé pastes that the Armendariz family imports.
"We have molé from three different regions of Mexico," she says. "We have from Oaxaca, Puebla and Guerrero."
They range from the brightly tanned pipián made from hearty pumpkin seeds, to the onyx sheen of the Oaxaca Negro colored by black chiles and Mexican chocolate.
And more people than ever are drawn to the stall as the popularity of Grand Central Market grows as a place to eat.
"It's all different kinds of people that come," says Armendariz, "and I think it's a great thing."
But despite the changes, she plans to keep Chiles Secos looking just the way it did when her grandfather ran the stall.
"We don't want to change anything that my grandfather set up for us," she says. "Walking into the market and seeing our stall, it reminds me of him."