The sale of recreational marijuana becomes legal in the state of California on Jan. 1, 2018, and that means anybody 21 or older will be able to buy marijuana products from a licensed retailer. We asked listeners: "What does this mean for you?" 
Not surprisingly, opinions were all over the map. And some were offered reluctantly. Despite its impending legality, recreational pot is still a little taboo.
Here's a gauge of how SoCal is feeling.
Elan Ruskin
Listener Elan Ruskin was staunchly on the "not going to try marijuana...ever" side of things. His main reason is his belief that it's not good for you.
Adreana Langston
Long Beach resident Adreana Langston has been a longtime proponent of marijuana. She's had a medical card for seven years and even makes her own edibles.
Her trepidation with pot's legalization centers around the business side and a possible corporate takeover of the market.
Andrew Urena
Take Two listener Andrew Urena is excited about what pot's recreational legalization can mean for the state in terms of taxes. He feels regulation of the drug can help benefit the state economically.
Robert Bittner
The last words of wisdom come to us from Robert Bittner, who feels like the legalization of marijuana represents a shift in attitude among Californians. It marks progress. He's looking forward to the accessibility and regulation that progress will entail.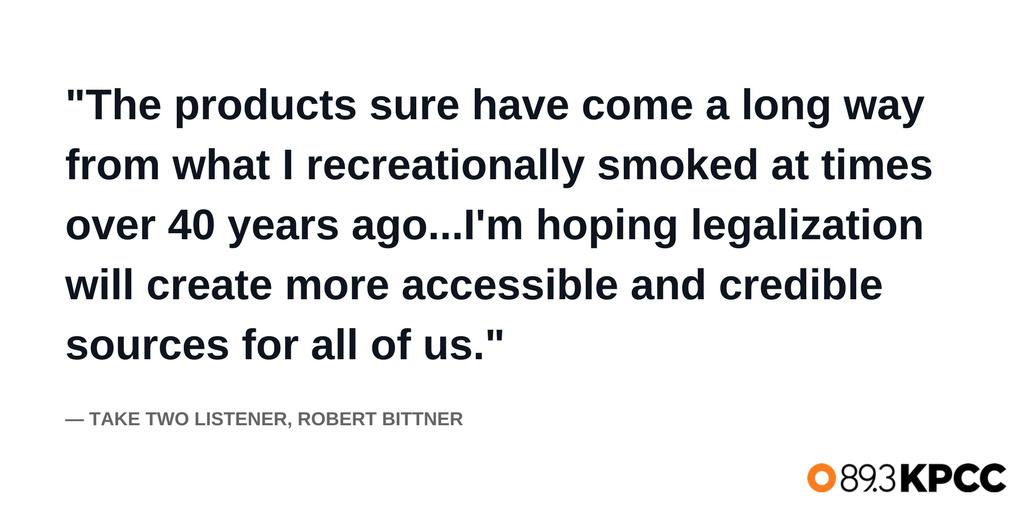 To hear what listeners have to say about the legalization of recreational marijuana, click the blue play button above.