The holidays are a special time of year when people come together to celebrate. However, not everyone celebrates the same way, especially here in SoCal. So we asked you — our listeners — to share your unique holiday traditions.
The holiday card
Hilary Hattenbach describes herself as "a bonafide Christmas nut." Her husband, Jared, didn't share the same enthusiasm when they got together 15 years ago until they created their own special tradition.
It all started when Hattenbach convinced her husband to pose for a silly Christmas photo.
"Since then this has become a tradition that we do every year, much to Jared's chagrin," Hattenbach said. "But the cards have become way more elaborate, because Jared is a Photoshop master."
There is one downside. The cards have become a bit of a source of stress and anxiety, particularly for Jared. 
"He's a perfectionist, so he spends hours laying out the card and finding the right photo and this year we got a really late start, so he was particularly beleaguered," Hattenbach said. "I didn't think we were going to make it."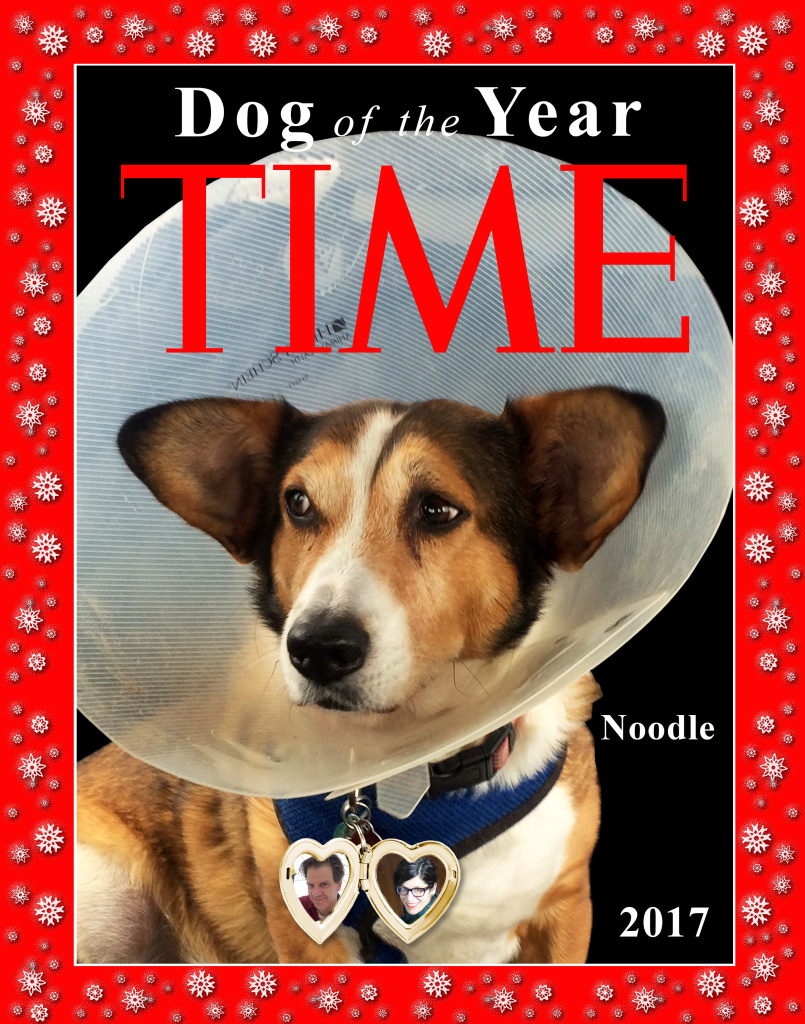 But they did, and Jared came up with the fun and original card featuring the couple's dog on the cover of Time Magazine.
"What I love about these cards is that we can look back on them and see where we were in our lives. See what we were into. What our interests were. And even Jared and his 'bah-humbug' ways has to admit that there were some cards he really loves."
The fusion
Bob Bittner of Lawndale has his own take on tradition: A little bit of everything. 
"An amalgamation of Germanic, Hispanic and other family traditions" is how Bob describes his Christmastime celebrations, which all kick off around mid-November.
"Tamale making around Thanksgiving usually sets the mood as we gather with friends and family to make a few hundred ... and argue over what the right amount of maza and filling should be."
"By December 6, St. Nicholas day rolls around. Our children place a shoe out the night before, hoping for an indicator of what Christmas may bring."
As the Bittner holiday tradition goes, treats or gifts in the shoe means they've been good and can expect great things on Christmas day, while rocks or sticks means they better get their act together.
"The day after Christmas varies. Some years it's a drop in on Boxing Day to catch up with friends while others we simply need to go to Santa Anita, grab a few drinks and chill out with the ponies."
A South American dish
Take Two producer Lori Galarreta has a tradition of her own, which revolves around a special dish from her parents' native country, Peru.
In the Galarreta household, Christmas mornings are filled with the sounds of chopping, frying and mashing. It's the only way to prepare the Peruvian dish known as tacacho.
"Tacacho is platano macho, cut up into thick slices," explained Ruth Galarreta, Lori's mom, "which are then fried and mashed."
Tacacho is a traditional dish in the Amazonian region of Peru, but versions of these fried plantains are found in other Latin American countries under different names.
To Puerto Ricans it's mofongo, and to Ecuadorians, it's bolon.
"Tacacho is important to me because it reminds me of my childhood," said Ruth, "The smell ... sounds ... brings me happy memories."
It's a tradition the Galarretas brought with them when they immigrated to the United States more than 30 years ago.
"When we came to the United States, I wanted this part of my culture, this tradition to continue to with my children," Ruth said.
And for the Galarretas, Christmas wouldn't be Christmas without tacacho.
If you've got a holiday story you'd like to share with us, we'd love to hear from you. Leave us a comment below, tweet us or leave us a comment on Facebook.