With all the unrest in the world, it's easy to forget that great things can happen to people — sometimes, when they least expect it. 
In search of some of that goodness, KPCC asked listeners to brag about the person nearest and dearest to them, and share their LA meet-cutes.
Meet-cute:

A cute, charming, or amusing first encounter between romantic partners (as in a movie).
Almost instantly, we received a deluge of love stories that started and flourished in the City of Angels. 
We couldn't spotlight them all (sadly) but here are four heartwarming tales of city romance that gave us all the feels.
Evan & Irene
Evan was at his roommate's house party in Porter Ranch in 2003 when he opened the door to see a tall, curly-haired beautiful woman that left him breathless. 
I introduced myself as she walked in, and then I proceeded to avoid her the rest of the night, literally scared, sitting on a stairwell with another friend who was also timid about approaching his crush. I didn't interact with Irene for the rest of the entire evening. I lamented that the rest of the night. 
Two weeks later, he was out at TGI Fridays when the same friend decided to invite two girls...
Honestly, this made me want to hasten my exit. That mutual friend, Gaby, I didn't really think I had anything in common with her, and I didn't need to spend any more time socializing on a work night. 
Evan's friend bribed him to stay using beers.
Tim spent the next 15 minutes convincing me to stay while these two young women walked in. Immediately, a smile widened across my face as I recognized the two sisters: Gaby and Irene!
Evan and Irene would spend the next few hours laughing and flirting, but they didn't exchange contact information. He relied on fate to bring them together again...
Kallie & Lauren
Kallie and Lauren weren't looking for love when they began chatting through a dating website. In fact, they were merely looking for other lesbian friends in LA. A feat, Kallie says, that is surprisingly difficult. 
The first time we met in person was that year's LA Pride. She had just moved to LA from Mississippi, literally five days earlier and the first time I saw her, she was walking up Crescent Heights looking very, very overwhelmed. There was a lot of gay around, it was amazing, but you could see in her face that she had never seen anything like it before and I think she maybe said ten words that entire day. I honestly couldn't figure out if she liked or hated me. 
Kallie and Lauren had internships in LA, but lived outside the city. To cope with the heavy traffic, they began spending time together, nicknaming their evenings "TA" or "Traffic Avoidance."
Instead of leaving and sitting on the 405 for three hours trying to get home, we would just hang out in the city together. It was a really good excuse for us to hang out with each other without the pressure of admitting that we actually liked each other.
One night, after a failed attempt to find parking on Sunset, the two pulled off the road, and sat with hazard lights on. A Judy Garland CD played. 
At one point, we noticed that we were hearing the same song for the fourth time and we realized that we had been sitting there for hours and it was two in the morning. She was really surprised, and she was like, "I've never been able to talk to someone like this before."
It all seemed to be going well, but Lauren was set to return to Mississippi soon...
Rachel & Brendon
Rachel and Brendon met during their 15 seconds of fame, but would form a bond to last a lifetime. The year was 2010. The place? The set of CBS' Big Brother. 
Rachel: When I first saw Brendon, I thought he was really handsome, but he's my competition.

Brendon: I saw Rachel, she was this hot girl from Las Vegas, which of course means that she's definitely trouble. 

Rachel: Well, as much trouble as I might have been, Brendon, I think that we really bonded over the fact that our housemates were all trying to get us out because we're both really competitive. 
Rachel and Brendon realized that they had something special when they began talking about their love of science. It turned out that Brendon was a Ph.D. student in physics at UCLA. 
Brendon: And Rachel told me that she had a degree in chemistry and that was something that I was very surprised by.

Rachel: So, as they say, the sparks literally flew and since then we've been inseparable.
The relationship continued for more than just one season...
Chelsea & Jenny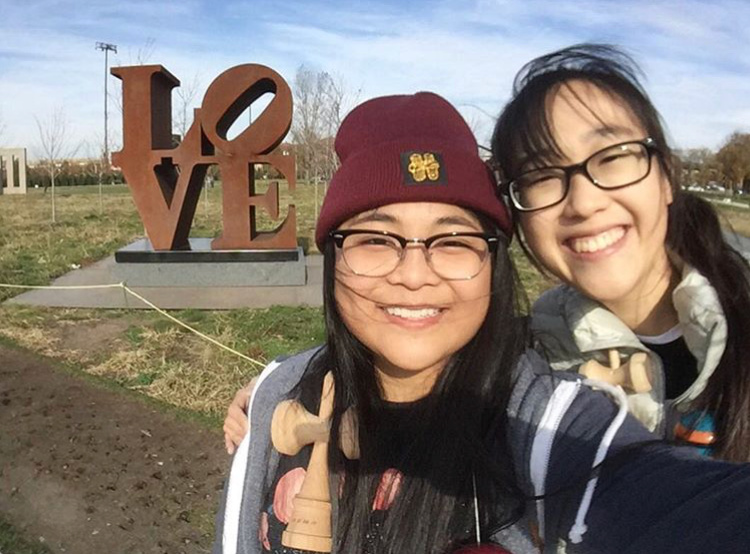 Chelsea first saw Jenny at a kendama night at Pasadena at the Villa Park Community center. (A Kendama is a Japanese, wooden ball-in-cup skill toy.)
And in the crowd I see her, and she sees me, and we lock eyes, and she smiles at me, and I smiled back at her for like three seconds, and in that moment I finally believed in love at first sight. 
Chelsea told herself that she'd talk to the girl who left her summarily smitten, but as the night drew to a close, she lost her. 
I thought I was never gonna see her again. 
But just one month later, she got a second chance: there was another kendama event at the Urban Light installation at LACMA. It was evening. The lights were aglow. And there, kendama-in-hand, she saw Jenny again. 
I remember going up to her and introducing myself. I asked her her name. She tells me that she actually knows who I am and I was so shocked and nervous. 

Eventually, I started seeing her there every other Tuesday, and it always felt romantic in a way. 
Chelsea says she knew they had something special after a long day on the job. She had just worked a late shift in her nursing job and was "just done with the day."
She was there to pick me up, and I felt like I was at home.