Treasure from the California gold rush that was lost in a shipwreck is finally coming home. The gold recovered from the SS Central America is now in Long Beach for a public display. The exhibition at the Long Beach Convention Center opens February 22 and runs through February 24, 2018.
Bob Evans is a geologist and the chief scientist for the project. He told Take Two the story of the ship and its treasure. The SS Central America was traveling between Panama and New York in 1857 when it hit a hurricane and sank with tons of gold from the California Gold Rush, Evans said.
The ship was actually found 30 years ago, so Evans said he's looking forward to displaying the findings.
I have been working on this treasure since the early 1980s, actually, so I've been waiting for this for a long time.
Evans walked us through the work he's doing to painstakingly remove the dirt and deposits from each piece of gold.
The technical term for this process is 'curating,' from the Latin word for 'to care,' Evans said. Some might call this 'cleaning,' but that has a negative connotation as a harsh process in the world for coin enthusiasts. 
First the coins take a soak in a special solution that Evans formulated to take into account the softness of gold compared to other metals.
Once this process is done, Evans rinses the coins and then uses special artist's brushes, working under a microscope to ensure there are no deposits left in the tiny ridges and indents of the coins.
When the coin is completely spotless, Evans rinses it again and uses a hairdryer to dry it.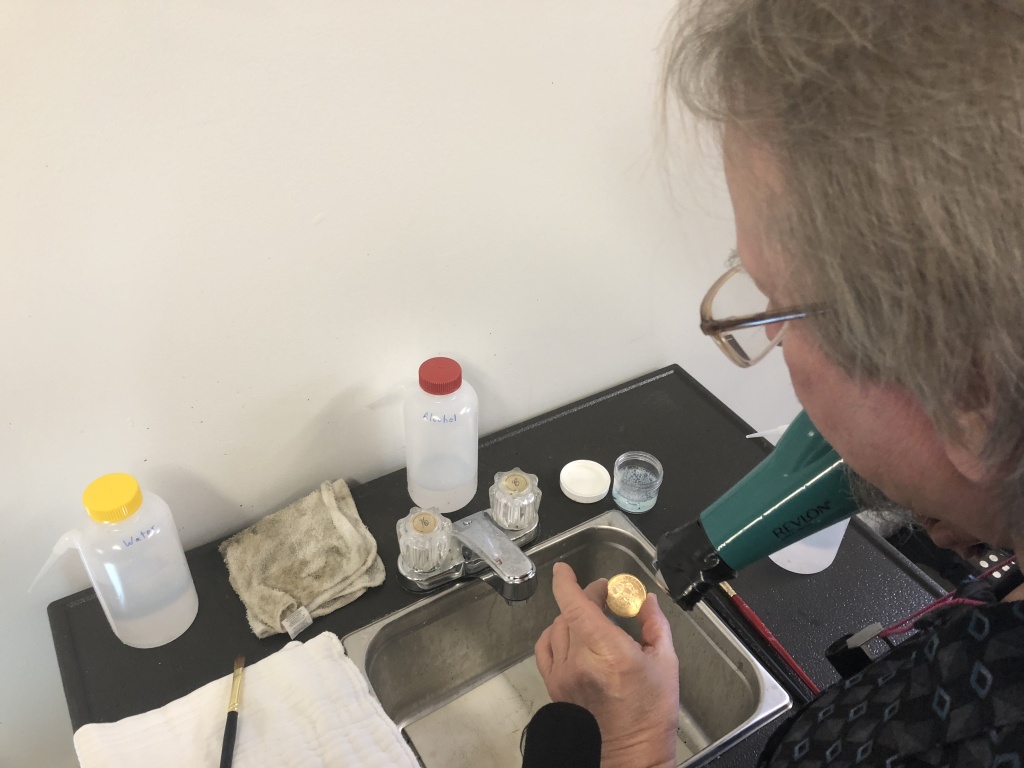 Evans catalogues each coin and artifact after he's finished working with it. The treasure includes gold dust and bars in addition to a variety of coins, including foreign-made coins and some from private mints.
The signature coin of the SS Central America is the 1857 double eagle, Evans said. The coin was worth $20 back then, but now, thanks to the shipwreck keeping the coins out of circulation and in good condition, they're worth much more.
When a coin is in mint state condition, this can add many, many multiples of value to a coin's worth. A double eagle in absolutely perfect condition can run into the six figures, over $100,ooo for that particular ounce of gold.
There are also smaller coins, some worth less than a dollar called California fractional gold pieces. 
The gold bars are called assayers' ingots. A gold miner would bring in the raw gold dust and nuggets to an assayer who would melt them into a block like this stamped with the gold's dollar value. 
This treasure is a key piece of California history because of its gold rush ties, Evans said.
When gold was discovered in California, now there was a reason to have a state in California. All these people went there; there was enough population to make it a state and it was so important economically. That's what this shipwreck and this story and the ship itself were all about, the transfer of wealth from California to New York and the rest of the world. That's what made this the greatest lost treasure in United States history.