Imagine you're in a car, driving down the road, and you hit construction. Now imagine it's a self-driving car that doesn't have a steering wheel or pedals.
"The vehicle could essentially stop in its tracks and be confused or somewhat paralyzed," says Elliott Katz. He's co-founder of Phantom Auto in Silicon Valley — a company that lets a human take remote control of a self-driving car from hundreds of miles away.
Under new California Department of Motor Vehicles regulations approved today, this sort of remote control system will be required for driverless cars. Those are cars that don't need a human behind the wheel because there might not be a wheel — or pedals – for a human to even control. General Motors says it will start making such a vehicle next year.
"As long as the cameras are still working on the vehicle, we'll still be able to drive in the same way that humans just need their eyes to drive," Katz says.
Using a cellular network, Phantom Auto can take control when an automatic notification is sent from the car itself when it realizes it can't operate, or when a passenger inside pushes a button to request it, at which point, Phantom Auto can take over and control the car in real time.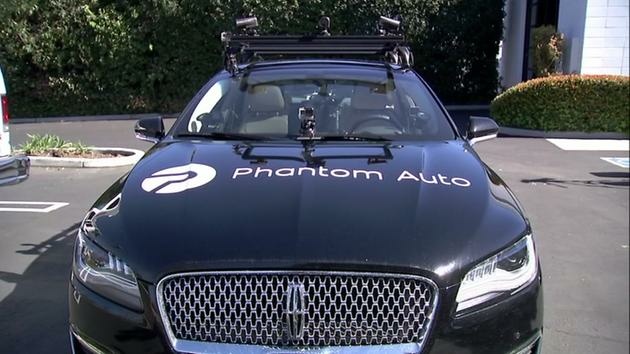 "If you go to NPR.com right now and it takes six seconds for that page to load, it's an annoyance, but there's no real world consequences," Katz says. "But if you're driving a vehicle over the cellular network, and you hit the brakes and the brakes don't do what they're supposed to do for even a second, there could be very bad consequences."
Phantom Auto isn't the only company working on such systems.
Nissan Motor Company has what it calls a Mobility Control Center, in partnership with NASA.
Just like robots on Mars are operated with people right here on planet Earth, "I am convinced that the only way to really build autonomous systems is to make sure that they behave correctly and socially understandably for humans," says Martin Sierhaus, director of the Nissan Research Center in Silicon Valley. "The way to do that is to have a safety net in case things don't work as we designed the system to do."
Every day, drivers encounter situations where they have to break the rules to successfully navigate what's in their way. Maybe it's a mattress blocking lanes. Or construction workers directing traffic. Stuff an autonomous vehicle might not be able to recognize and steer around.
"For these kinds of situations, we will need humans in the loop that help the system to break the rule," Sierhaus says.
The state of California now agrees. Under its new regulations for driverless car testing and deployment:
There will be a separate permitting process for cars without a human driver.
Companies have to certify with local authorities where the vehicles will be tested and provide the DMV with written notification that they let the authorities know.
They also have to certify that the vehicle has a remote communication link between the vehicle and a remote operator.
They have to have a process to communicate between the vehicle and law enforcement.
The cars have to meet all federal vehicle motorcycle safety standards. If they want to take away the steering wheel or pedals, they would have to provide certification from NHTSA saying they're allowed.
California drivers can expect to see the new regulations in effect as early as April 2.
California has allowed testing of self-driving cars since 2014. There are currently 50 different companies testing a total of about 387 vehicles on public roads in the state, mostly in the bay area. By law, those so-called self-driving cars have had to be operated with a human safety driver inside – just in case.
But starting in about a month, the car itself just might be the driver. A human will still be able to take over, but he just might be hundreds of miles away.