Take Two gets the latest updates on the June 5th California Primary election. We also speak with KPCC's John Horn and Vanity Fair's Rebecca Keegan about Harvey Weinstein's arrest in New York. And we speak with KPCC's Emily Guerin about kayaking the L.A. River once the water is open for recreational activities this weekend.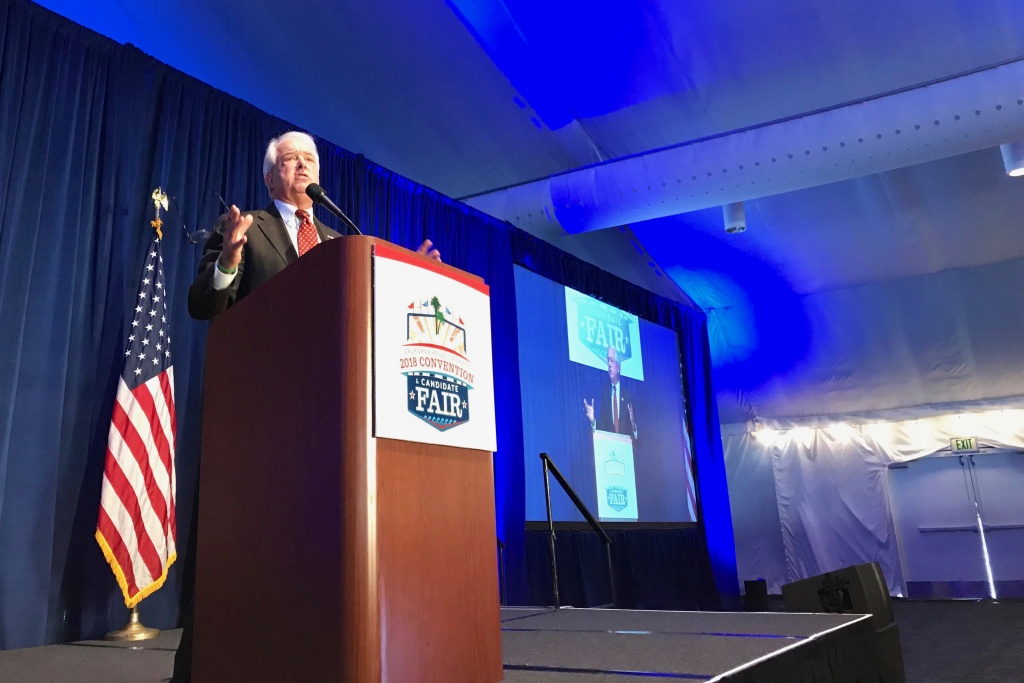 The value of a Trump endorsement for one California gubernatorial hopeful
A tweet is as good as a nod to a struggling party. Every week, Take Two brings you the latest from California's political scene. Here's what's happening this week: It's been just days since President Trump tweeted his support for Republican John Cox in the California Governor's race. But is it a game changer? Meanwhile, GOP lawmakers here have been working to force a House vote on immigration. We have the latest on that effort. Finally, could Antonio Villaraigosa ride the gas tax ire to victory in November? The experts weigh in. 
Guests:
Marisa Lagos, reporter for KQED's California Politics and Government Desk

Zach Courser,  visiting professor of government at Claremont McKenna College
Making Al Care (again)
A few years ago, KPCC aired a series called Make Al Care. It was a big idea: could we take someone who had never voted in a local election and turn him into a voter? Our reporter Meghan McCarty Carino found someone who fit that bill in Al Gordon. Meghan made it her mission to Make Al Care. She brought him experts and took him to candidate forums and checked his registration status. And finally, he did care and voted in that election. Now, with the June 5th primary less than 2 weeks away, we wondered: is Al planning to vote?
Guest:
- Meghan McCarty Carino
A stretch of Hollister Ranch is getting hard to reach by land
Just west of Santa Barbara, the only land-bound pathway is becoming off-limits to a stretch of pristine beach at Hollister Ranch. The only way to get there now is by boat. That's raising questions about the fundamental rights to beaches in California.
Guest:
- Rosanna Xia, L.A. Times environmental reporter
Bioluminiscent pond experience coming to unknown location in L.A.
Today may be your lucky day. The group of anonymous artists behind the Griffith Park tea house three years ago are back with a new experience. It's called "Night life L.A.," and it offers darkness, enchanting views of the city and a moonlit hike that leads to a bioluminescent wading pool at an undisclosed location in Northeast LA.
Unlike most L.A. experiences, this one claims to "be almost impossible to photograph." So Instagram fans, take note. The Night Life L-A pop-up is free, but tickets are limited and the event is only running between May 31st and June 2nd. Today is your only chance to try and nab tickets. You can enter here.
Harvey Weinstein arrested for rape in New York
It's been about seven months since movie producer Harvey Weinstein was outed in the press for chronic sexual harassment and abuse of power, setting off the #MeToo movement not just in Hollywood but in many industries. Now he's been arrested -- charged with rape and sexual abuse in cases involving two women. Weinstein turned himself in to New York police Friday morning. Weinstein's fall has been a long time coming, but it's been hard and it's been fast, and it has roiled the industry he once ruled.
Guests:
- John Host, host of KPCC's The Frame
- Rebecca Keegan, entertainment reporter for Vanity Fair
L.A. River opens for kayaking this weekend
As the L.A. River opens for kayaking this Memorial Day weekend, we answer listeners' questions about water quality and other issues.
Guest:
- Emily Guerin, KPCC environment reporter
Memorial Day weekend preview
This week's picks include the Cajun and Blues Music Festival in Simi Valley featuring zydeco bands, mardi gras parades and Eddie Money as headliner. Boast Rattle, on Sunday in Westlake, is two dueling comics going head to head boasting about one another. Main-opoly on Main Street in Santa Monica is a culinary walking tour that will let you get a taste of the food offerings from 20 area vendors.
Guests:
- Leo Duran, KPCC reporter
- Marielle Wakim, Los Angeles Magazine