Election Day is coming up tomorrow -- Tuesday, June 5. To help you prepare, we speak with KPCC senior political reporter Mary Plummer for last-minute advice. We also talk with California Secretary of State Alex Padilla about how to increase voter turnout. And we visit the Skirball Center to check out the new Jim Henson Exhibition.
Last-minute voting tips before Tuesday's primary election
(Starts at 1:01)
Week by week here at Take Two, we've been bringing you everything you need to get ready for tomorrow's vote. And now—with the election less than 24 hours away— we're down to the finish line. It's time for a little last-minute political cram session.
Guest:
Mary Plummer, KPCC senior political reporter
Candidate Check-in
(Starts at 7:39)
The election is almost here and candidates are making their last-ditch efforts to get your vote. The top two vote-getters for each office will square off in the November general election. So, for candidates running in crowded races like the bid for governor or some congressional seats, tomorrow is their last chance to stay in the game.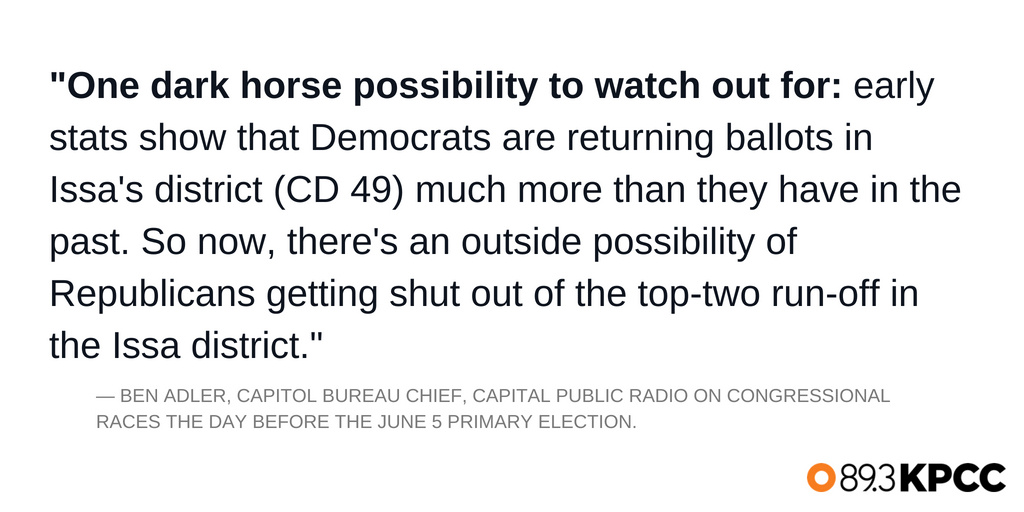 Guest:
 Ben Adler, Capital Public Radio, Capitol Bureau Chief
How to increase voter turnout in California
(Starts at 15:29)
And for those in the state who work to increase voter turnout, Tuesday's vote is a weigh-in of sorts. It's a chance to see how effective their outreach efforts have been, as well as a reminder of how much more needs to be done. We hear from three people working to bring more people to the polls.
Guests:
Alex Padilla, California Secretary of State
Michelle Lim, a voting rights policy advocate for Advancing Justice L.A.
Luis Sanchez, co-executive director of Mobilize the Immigrant Vote and Y-Vote
Where is the inclusion rider now?
(Starts at 29:27)
It's been three months since Frances McDormand brought up the inclusion rider in her speech when she won the Academy Award for her performance as lead actress in "Three Billboards Outside of Ebbing, Missouri," so has the provision taken hold?
https://www.youtube.com/watch?v=4gU6CpQk6BE
Plus:
After another bummer weekend at the box office, "SOLO" becomes the first Star Wars movie that's not an event.
On Monday morning, Academy members will start voting to pick their new board. Among those running: Brie Larson, Meg Ryan, Lou Diamond Phillips. Tops on their agenda will be what to do about the Oscar telecast.
Guest:
Rebecca Keegan, writer at Vanity Fair
College Promise
(Starts at 37:58)
The L.A. College Promise waives one year of community college tuition for graduates of the L.A. Unified School District. Administrators say the L.A. College Promise is a success and they point to something other than free tuition as a factor: Support. They say the benefits are causing a ripple effect. With the program's first class about to wrap up the year, we thought we'd check in. KPCC's Adolfo Guzman-Lopez reports.
Jim Henson Exhibition opens at the Skirball Center
(Starts at 42:19)
If you're a fan of The Muppets, Sesame Street's Bert and Ernie, or Fraggle Rock, then you're in for a treat. "The Jim Henson Exhibition - Imagination Unlimited" opened over the weekend at The Skirball Cultural Center. Take Two contributor Betto Arcos got a chance to preview the exhibition and talked to the folks behind it.