We speak with Pasadena's mayor about an affordable housing project under the Colorado Bridge that's upsetting nearby residents. Plus, are LGBTQ businesses necessary in a city as diverse as Los Angeles? And, the latest Hollywood news.
Pasadena Colorado Street Bridge affordable housing project is causing controversy
(Starts at 2:00)
Pasadena's Colorado Street bridge is an icon with its old-fashioned lamp posts and dramatic height and views. And two years ago, a unique project broke ground underneath it. The five-acre space was planned as an affordable housing solution spread out alongside open "meadow" spaces. But now, the area's residents say they're feeling "frustrated, misled and manipulated" by how it's being designed. And they are threatening to take legal action and picket the site if construction moves forward. So what's going on?
Guest:
Terry Tornek, Pasadena Mayor
Port of Los Angeles cleans up its act
(Starts at 9:44)
The Port of Los Angeles is the busiest in the country, moving $284 BILLION dollars worth of cargo each year. But the diesel trucks that move all that merch are a major contributor to Southern California's poor air quality. So, the port is cleaning up its act. On Friday, it announced a partnership with the car company, Toyota, and the energy company, Shell, to begin using emissions-free hydrogen trucks.
Guest:
Gene Seroka, executive director of the Port of Los Angeles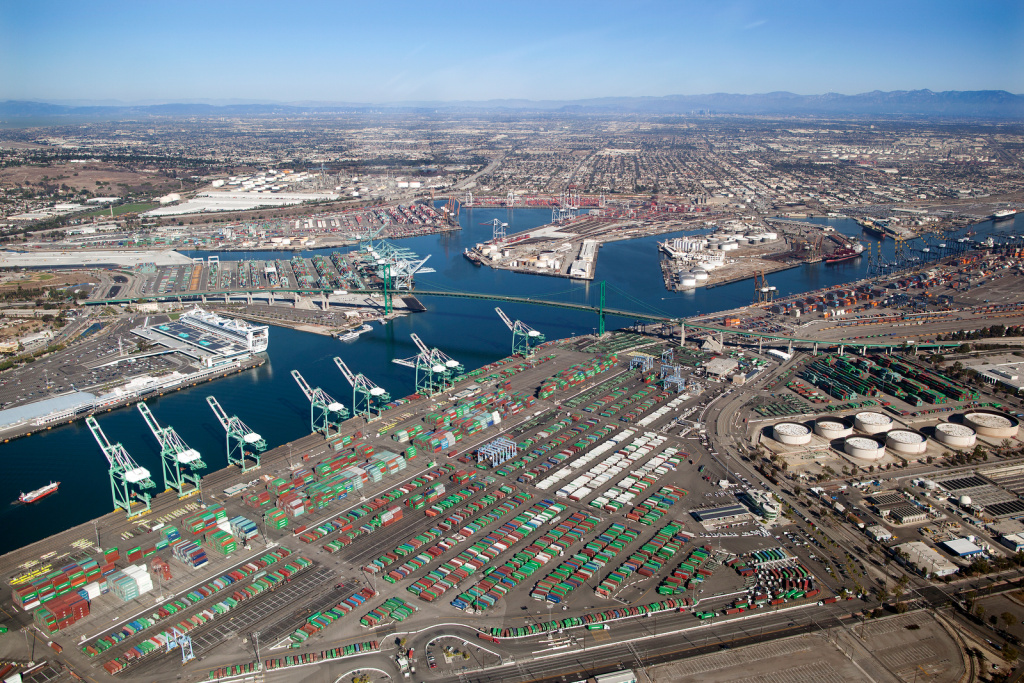 Are LGBTQ Businesses necessary in diverse Los Angeles?
(Starts at 22:14)
Cuties coffee shop in East Hollywood is one of many small businesses trying to stay afloat in L.A. But there's something unique about Cuties. It's an LGBTQ coffee shop -- one of the only casual spaces in the city that's geared towards this community. Still, the shop is in the middle of fundraising efforts to keep its doors open. And it's not alone. The Oxwood Inn, known as L.A.'s last lesbian bar, closed last year. And Paradise--the oldest gay piano bar in Long Beach--shut down in April and was transformed into a skater bar. While the L.A. area doesn't lack LGBTQ spaces, we wanted to see how businesses geared toward this community can thrive in a city that's known for being inclusive.
Guest:
Marquita Thomas, executive director of the Los Angeles Gay and Lesbian Chamber of Commerce
This year's Emmy hosts have a tricky task ahead of them
(Starts at 31:33)
It's Emmy Monday! This year, Colin Jost and Michael Che of SNL's "Weekend Update" fame are hosting. The task ahead is tricky...how will they do? Plus, "A Star is Born" producer Jon Peter's past catches up with him.
https://www.youtube.com/watch?v=su8JX27M0gY
Guest:
Rebecca Keegan, Vanity Fair
Metro PSA's 
(Starts at 47:00)
Almost a year ago Los Angeles Metro gifted the county with a quirky set of pastel colored public service announcements starring "Super Kind" and "Rude Dude." They just released more last Friday. True, they're delightful...but are they actually working?
https://www.youtube.com/watch?v=VyjHFYtz5hY
We want to hear from all the public transit warriors out there. Has the L.A. metro rider experience really improved? Tell us on Facebook or Twitter.
Guest:
Paulette Tonilas, Chief communications officer for Metro Los Angeles