Hauser & Wirth has galleries in Zurich, London, New York and, now, right in the middle of L.A.'s downtown arts district.
The gallery complex — which resembles a small museum — takes up an entire square block, located in a renovated flour mill built at the turn of the 20th Century. In addition to 23,000-square-feet of exhibit space, there's a bookstore, a massive outdoor courtyard and a restaurant that should open this summer.
Here in Los Angeles, the gallery is actually Hauser Wirth & Schimmel — that would be Paul Schimmel, the well-respected curator who spent more than two decades at L.A.'s Museum of Contemporary Art. The Frame's John Horn sat down with Schimmel and asked: why the arts district?
The holy grail in the world of both galleries and not-for-profits is to find a location where people have both a destination and an opportunity to engage with and live with art. And the very difference that is here than even just a few blocks away on Bunker Hill [where MOCA and the Broad Museum are located], is that this is a living community ... I love looking around, you can see the first-time visitors. There's a little shock-and-awe. And museums can be intimidating. Galleries can [also] be very intimidating because people think, Oh, I can only go in there if I'm going to buy something. So, opening this space up from 2nd to 3rd [street] — creating an open courtyard, a destination with a book shop and a restaurant and a public garden where people can sit at a table and have their own lunch and Wi-Fi — the separation between how they live and how they experience art becomes in some ways much more organic and much more the way artists see the world.
The combination of a non-collecting art museum, a commercial gallery and an educational and arts foundation enterprise — those three things don't naturally always go together. But is it your feeling that the combination is what will make this space successful?
I've had the great experience of having been a curator in contemporary arts museums since the mid-'70s. It was in a time when there were only a handful of public institutions that felt comfortable inviting artists directly in. In fact, even the most significant institutions devoted to the art of our time until just recently — meaning over the last 15 or 20 years — have engaged artists in that very direct and creative way. So, in that respect, galleries have had an enormous impact on the museum landscape.

Vice-versa, there is a long history of galleries doing museum-quality exhibitions. Whether it was [Paul] Durand-Ruel in the 19th Century doing the most important exhibitions of Monet, Renoir, Manet, or [Daniel-Henry] Kahnweiler with Cubism, or Sidney Janis with [Piet] Mondrian, or more recently Pace with its exhibitions. So, the space that this enterprise has is one that has in some ways already been defined in the programs of different Kunsthalles and non-collecting institutions, museums and their introduction of artists — living artists — into the space. And, with galleries, I think what's maybe truly unique is that both in the choice of the space and the creating of a destination is unique in the gallery world. And it is somewhat unprecedented that this should happen in Los Angeles.
How will you measure the success of what you're starting here?
In the same way I think I've always measured success, whether I was doing exhibitions at the Orange County Museum of Art or at MOCA. Our first client, our first interest, is the artists themselves. And how we judge our success is by the interest and willingness and commitment that artists to make great things that happen here. And they make great things when you raise the whole platform up, you put them with great works of art and a program that respects their vision, their integrity, and gives them a sense of their own place, their own history.
Paul Schimmel is co-curator of the gallery's inaugural show: "Revolution in the Making: Abstract Sculpture by Women, 1947 – 2016." The other curator is art historian Jenni Sorkin. She gave The Frame a tour through the expansive space and explained why the gallery is opening with a show of female artists.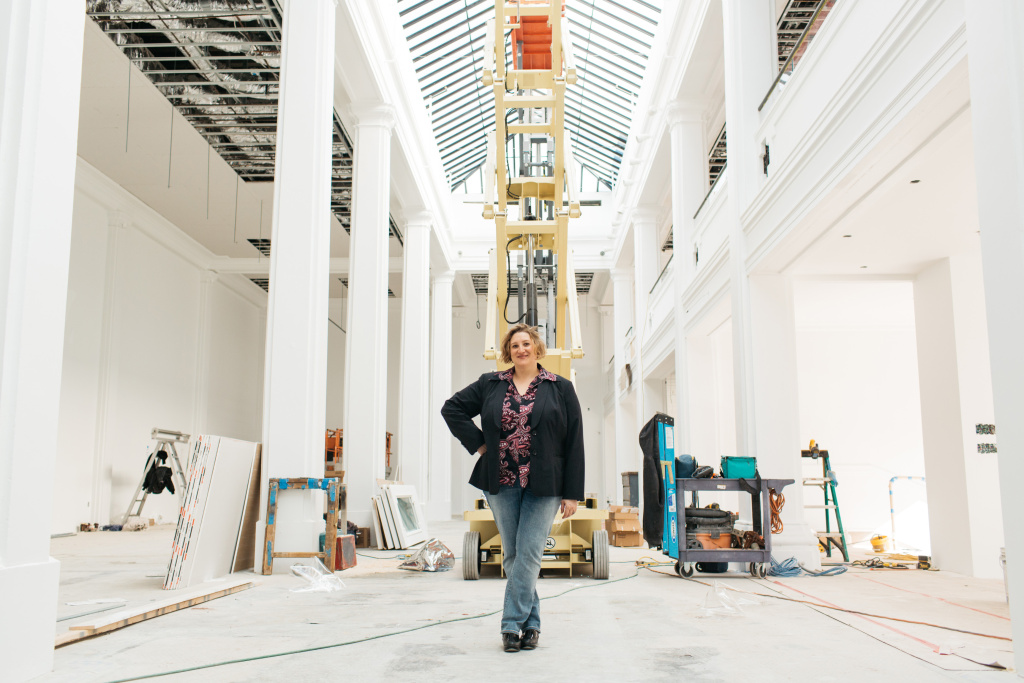 I think that starting with a sculpture show is a way of announcing and taking up space. And I think, in particular, the idea of women taking up space — or what I like to think of as territorializing space, colonizing space — [is about] making their presence known in an art form that has been traditionally very exclusionary to women.
You said in previous interviews that sculpture is one of the last bastions for the exclusion of women. Who was doing the exclusion and did it become a self-fulfilling prophecy in terms of women not being able to enter?
I think it was actually men who were doing the exclusion, and I think it was not actually by choice. I think that it has to do with our socialization in the world. For instance, if you think about the way in which kids are trained or not trained to use tools, this was very gendered in schools ... certainly throughout the 20th century. For instance, shop class was male students, home economics was assigned to women. And that has a massive impact in terms of who gets to use tools, who's comfortable using a hammer, who learns to use a lathe, who learns to weld. And those are massive kinds of exclusions. Because when you have a skill set in terms of building, it takes a long time [to] build on that.
On Lee Bontecou, one of the artists with featured works in the exhibition.
These are largely early '60s pieces, so 1961 to about 1966. And part of the androgyny of her name, Lee, was a way of disguising her gender ... Because mid-century, she probably would not have gotten a show as a woman doing this kind of work. And because people often thought she was going to be a man, it was a name that disguised her in a way.