Allen Toussaint died last November, not long after he finished the sessions that became his and producer Joe Henry's final collaboration, "American Tunes."
Toussaint is the composer/producer who, starting in the late 1950s, played a huge role in creating the New Orleans R&B sound. But Henry believed Toussaint had never received his proper due, so he set out to correct that when he started working with Toussaint more than 10 years ago.
Since then, Henry helped Toussaint make "The River in Reverse," a collaboration with Elvis Costello, and "The Bright Mississippi" a collection of modern and classic jazz arrangements.
Joe Henry joined The Frame in studio recently to talk with Senior Producer Oscar Garza about working with the New Orleans icon.
Interview Highlights:
How did you first start producing for Allen Toussaint?
I had created a collaborative project called "I Believe To My Soul" in 2005. The concept was that there was not really a contemporary platform for great soul artists. Everybody either got relegated to the oldies circuit or pushed into the hip-hop world. So I created this project where I invited Mavis Staples, Ann Peebles, Irma Thomas, Billy Preston and, ultimately, Allen Toussaint into a room with a shared band over four days in the old Capitol studio in Hollywood.

Originally, there was somebody else in Allen's chair. I needed someone who could be a featured artist, but also a permanent band member to connect these threads that were coming through this revolving door every day. That person dropped out about nine days before the sessions after I had spent two years assembling [the participants]. He shall remain nameless, although I still love and admire him tremendously and owe him a great debt, because the only other person who could be a featured artist in this configuration, and also a significant band member, was Allen Toussaint. But I had no relationship with him.
So how did you get to him?
My wife had years ago worked with Quint Davis who runs Jazz Fest in New Orleans. She said, "For starters, just call Quint Davis and say, 'Help. How do I find Allen Toussaint? How can you put me in touch with him?'" I called his office and a man answered the phone. I said, "Is Quint there? No? Listen I'm trying to get a hold of Allen Toussaint. Is there anybody there who can help me?" The man said, "Well, I'm his son. What's on your mind?" It was his son, Reginald, who was his manager also. So there I was. I made my desperate pitch to him and he said, "Put it in an email and I'll talk to my dad about it." He called the next day and said, "My dad says yes." I said, This is a multifaceted project and I'm asking a lot of him. Which part is he okay with?" He said, "All of it!" From that moment on we were working pretty consistently for over 10 years in so many different ways. It was life-changing for me.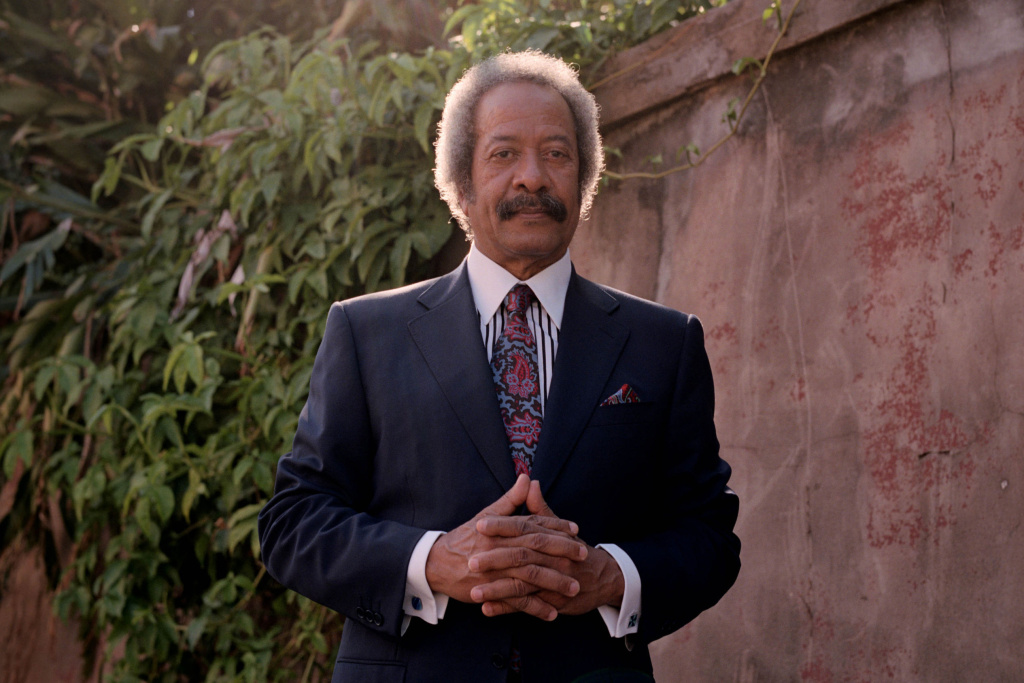 Allen Toussaint produced for many artists over his long career. While he was always the gentlemen, he was very precise and exacting about getting the sound that he wanted in the studio. So what was it like for you to produce an artist who had that background as a producer?
Well, it was terrifying. I so revered him as a producer, songwriter, arranger and pianist. But because Allen had really occupied that chair as producer, he, above all, made sure that I understood that I was in that chair for a reason and that it was a real job and that I was obliged to take the wheel. So at the same time that he might have been the most intimidating man in the room, he also was the most understanding person. He saw what my responsibilities were and what my fears were — he understood all of it. I learned so much from him as his producer. It was that old thing where, if you really want to learn something, try teaching it. You try to produce somebody who knows what that means ... I know I learned a lot more than he did.
"Southern Nights" was one of Toussaint's first hit songs as a solo artist. Why did you choose to re-record it on "American Tunes?"
That's a two piano duet between Allen Toussaint and my dear friend and neighbor, Van Dyke Parks. It happened again by the aligning of stars. A lot of people don't understand the history between Allen and Van Dyke, but when Allen was first signed in 1971 to Warner Bros. Records as an artist himself, he was a very reluctant frontman. At that point, when Lenny Waronker and Mo Ostin were running Warner Bros. Records, Van Dyke was a staff producer and remote A&R man. Allen would not deliver his record. He kept promising and it was not forthcoming.

At one point, as I understand it, Mo Ostin calls in Van Dyke and says, "I don't know what's going on in New Orleans, but go down there, figure out what he needs to finish this record and help him. And don't come back without it!" So Van Dyke goes to New Orleans and realizes that Allen believes himself to be a song short in his album, and a significant song short. He can't let go of it until this piece is in place. One night, Van Dyke says to him, "Listen, here's the deal, Allen: You need to imagine that you've got two weeks to live. What have you not said as a songwriter that you must?" And, as I understand it, Allen went home that night and wrote "Southern Nights." 
So then, 40 years later, I'm standing in the room with both of them, and there happen to be two pianos side-by-side in the room. I thought, Well, you were inspired to write it by the man standing here so without thinking about it or talking about it, you guys should sit down at these two pianos, if nothing else, to entertain me. And the delight that both men had to sit face- to-face at these pianos — had nobody ever heard it after that, it still would have been one of the great moments of my professional life, to stand there and watch that happen. I would never, ever describe Mr. Toussaint as a giddy man, but he was giddy to sit with Van Dyke and play. It was just something I'll never forget and, as far as I know, it was the very last thing that Allen ever recorded in the studio. It seems so full circle to me now to reflect back on that reunion of those two completely anomalous characters who, nonetheless, were devoted to each other. Their admiration for each other was palpable in the room.
When was the last time that you saw or spoke with Allen Toussaint?
The last time that I communed with him was two days before his passing. It was really strange because I was driving up to Northern California to a conference and my wife was with me. I was driving and she was playing traveling secretary for me because there was a lot going on at the moment. She just said, "Hey you just got an email from A.T. Should I read it to you?" I was surprised because he would always respond to an email if I had a question for him, but he responded like a man sending a telegram who was paying by the word. He did not use email to be conversational. So for me to get an email from him was unusual if I hadn't just asked him a question. He had been resistant to recording the Billy Strayhorn piece, "Lotus Blossom," and I had urged him to stick with it because I thought it was an important piece. I thought it sat at the center of what we meant to do. 
When he wrote me this email from Switzerland he just said: "Greetings from Switzerland. I just want you to know that I can't stop playing 'Lotus Blossom.' Thank you for taking me there. — A.T." There couldn't have been a more perfect sign-off for me personally than him acknowledging that I wasn't pushing him somewhere that he didn't want to go. I worried at times that I was asking him to take on music that maybe he hadn't found a way into. I never wanted it to be something he was doing for me. I wanted him to be doing it because it resonated with him. And it was very important to me that it remained meaningful to him even beyond the sessions — that he heard himself in that music somewhere and was staying engaged with it. So that was a gift for me.