When filmmaking brothers David and Albert Maysles brought their camera into a decrepit mansion in East Hampton in the early 1970s to film Edith Ewing Bouvier Beale and her daughter, Edith Bouvier Beale, they couldn't know that the story would go on to fascinate people for generations. But it has.
Their documentary film, "Grey Gardens," which followed the two eccentric women — known as Big and Little Edie — living in near-poverty among cats and memories, has spawned an HBO film and a stage musical.
The two Edies were an aunt and first cousin of Jacqueline Bouvier Kennedy, but had fallen out of touch with much of the family and come to live in squalor, co-dependently tied to each other.  
A version of the stage musical is now at the Ahmanson Theater in Los Angeles, with Rachel York as Little Edie and Betty Buckley as Big Edie.  
https://www.youtube.com/watch?v=u5HceVBSMoo
Buckley visited The Frame this week. The long-time actress, who won a Tony for her work in the original Broadway production of "Cats," shared her secrets of staying fit to perform on stage, and her insights into the mother and daughter in "Grey Gardens."
ON HER PRE-SHOW RITUALS:
I work out every day for a minimum of an hour, but mostly when I have the time, two hours. Then my vocalise takes 30 to 45 minutes, and then you've got to plan your eating schedule. You've got to eat an early supper so that you're not dizzy with hunger when you go on stage, but at the same time you're not belching your dinner up between musical notes. So it takes really careful planning and organization. Then I meditate. I'm a meditator for years and years, so there's a process of meditation and prayer and surrender and really acknowledging where you're at. If you're tired, if you're upset about something, you're really taking responsibility for your emotional state. Then surrendering that so that you can lend yourself or your soul, as it were, the experience of the character.
ON BIG EDIE:
The one thing she owned was this beautiful house, this beautiful property, Grey Gardens, in East Hampton. It was in her name and she lived on the Bouvier trust for years when her husband abandoned her. But she was this privileged daughter of high society and then she married a wealthy man. She was a singing prodigy from age 10. Her father was very reluctant to have her do that.

Women of a certain social status were meant to be wives and mothers. They were not taught a skill and were not taught how to make a living, but she had this bohemian spirit — she was an artist and she was not allowed to really express that. She did so in the social milieu of her house and her family. She sang and gave concerts in her house. She had this ongoing relationship with this wonderful pianist and composer, [George Gould Strong]. He was gay and all of this was really frowned upon. The father just had had enough and didn't want anything to do with that. He abandoned them. And she had two sons as well. From my understanding of the things I've been told is, they kind of washed their hands of her after a while because they really wanted her to sell the house and move to Florida to a retirement community and she wouldn't do it. She was just really stubborn in holding on to all of that. 

She reminds me of a pioneer woman. My grandmother, Myrtle Buckley, grew up in South Dakota and she homesteaded her own land in South Dakota's territory before it was a state. Then she married my grandfather, Norman C. Buckley, who was Kid Buckley and was a real cowboy. Myrtle drove the chuck wagon on the cattle drives. I just feel that there's something about a kind of stalwart resilient spirit that made [Big Edie] hold on to the land and she wasn't going to let it go, no matter what, even as it crumbled around her. Her daughter got pulled into that.
ON THE DYNAMIC BETWEEN BIG EDIE AND LITTLE EDIE:
I think it was a very mutual co-dependency. Little Edie did have a lot of years in New York where she tried to be in show business. She worked for her father and his law firm. She was not successful at that. She tried to be a model for a while. She got involved with a married man and he broke her heart. She went back home to East Hampton to recover. Then her mother became ill, had some eye surgeries and it went downhill from there. And the brothers were not helping out and the father had abandoned them. I think, Little Edie, similarly, was this bohemian spirit, a really outlandish personality who had some of her own issues. Then the two of them became really immeshed in this co-dependency. I don't think Big Edie is entirely responsible for that. I think it was a collaboration.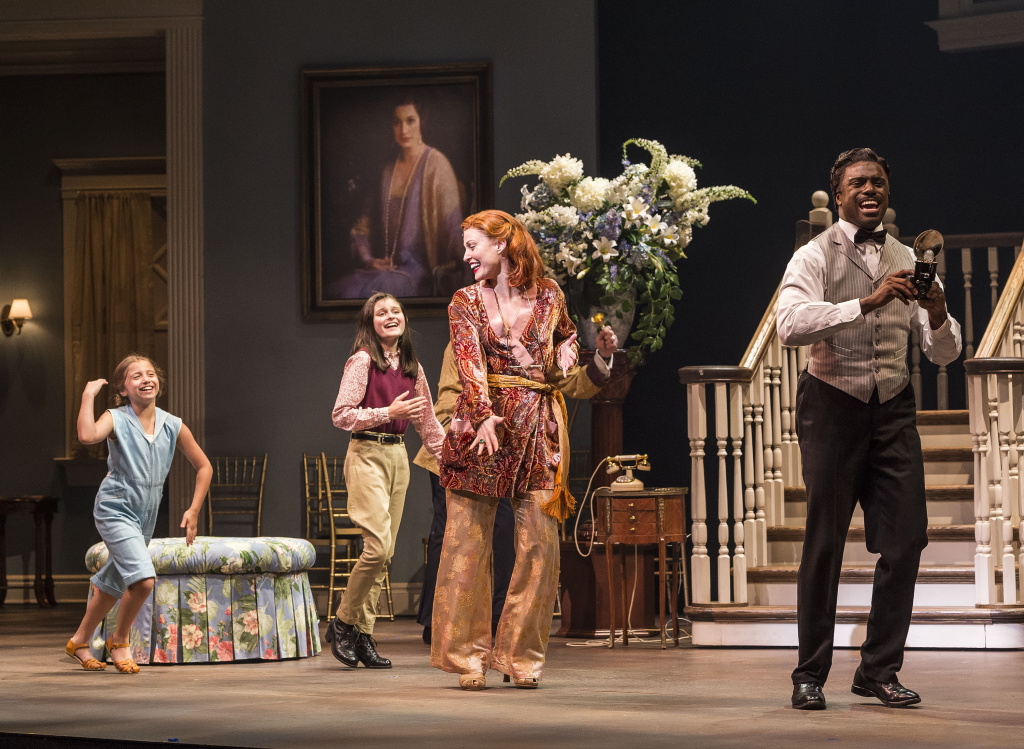 ON THE FEMINIST READING OF "GREY GARDENS"
A lot of feminists at the time of the documentary spoke at great length from the feminist perspective — how the repression, culturally, on these two women with these artistic spirits and how they simply weren't allowed to be themselves and had not been trained how to make a living. It's like, What do you do? We worked against all of the writing that wants us to believe that the mother was this demon mother that made this happen. We really tried to play the opposite on that throughout the play.
For information on tickets to see "Grey Gardens" at the Ahmanson Theater, click here.