Hollywood studios are often faulted for being risk-averse and not taking chances on who they hire or on the movies they make. The result can often mean that it's harder for new talent to break into the business. This is especially true when it comes to giving directing opportunities to women and people of color — especially women of color. But there's a place high in the mountains, not far from Provo, Utah, where a group of eight filmmakers from diverse backgrounds gathered this summer to work on their first feature films. 
The Sundance Directors Lab is a four-week-long workshop meant to be an alternative to film school. Instead of classwork, these filmmakers came to the Sundance Mountain Resort with scripts in hand, ready to rehearse, shoot and edit scenes of their movies under the guidance of industry pros. Some of the past alumni of this program are filmmakers Quentin Tarantino, Miranda July and Paul Thomas Anderson.
One of the filmmakers participating this year was Los Angeles native César Cervantes. His film, "Hot Clip," is set near his hometown in Southeast L.A. and tells the story of a 20-something skateboarder with dreams of making it out of the 'hood.
Cervantes worked with David Gordon Green at the lab. Green directed "Pineapple Express" and the Sundance Film Festival movies "Snow Angels" and "All the Real Girls." In rehearsal, Green coached Cervantes through a scene encouraging him to question every choice he's made — no matter how seemingly small.
This kind of workshop environment is exactly what Sundance Labs Founder Robert Redford had in mind when he started the program in 1981, a few years before the inception of the Sundance Film Festival.
Robert Redford: "Once you sit in a chair it becomes a classroom, and I was sort of against that because I was always a lousy student. [laughs] I hated going to class and I didn't want it here, so I thought, well, let's just get on our feet and muscle it through."
Ira Sachs went through this program in the late '90s with his film "40 Shades of Blue."
Since then, Sachs has had five films debut at the Sundance Film Festival, and this summer he was there as a mentor. Even as he was on the verge of releasing his latest movie, "Little Men," he made time to come to the Resort and work at the Lab.
Ira Sachs: For me, what I try to do is think about the other filmmakers as peers, who are filmmakers, who are artists, and I'm trying to listen to what they're doing. So one of the things I'm trying to say is, "Oh, just so you know, there's another way to do it." And keep in mind that you can leave here and continue to question your process.
The very first film to be workshopped at the Directors Lab was "El Norte" in 1981. It was directed by Gregory Nava, who also wrote the screenplay with Anna Thomas.
The film is about two Guatemalan teenagers who flee the country in the early 1980s due to the country's civil war. It follows their journey as they cross the U.S-Mexico border to make their way to Los Angeles.
Redford: Because I'd grown up in a Mexican neighborhood in Los Angeles as a kid, so I was very much aware of that community and I liked the idea of us presenting a film that put a spotlight on that community.
The film went on to earn an Oscar nomination for Best Original Screenplay — but Redford wasn't entirely happy.
Redford: But I mean, they were a pain in the ass. They were very difficult. Their egos were way out in front. And they did something which was not good. Which was, we always had a plan. You don't take your film away from here and show it somewhere else. You just leave it here. If you want to come get it, have it. It's yours. But don't use the lab to take it out, and use your experience here for distribution, and they did that.
Redford was annoyed because the handful of scenes that are workshopped and shot during the Directors Lab are meant to be a test run — and disposable. After it's over, the filmmakers are supposed to leave their work at the Lab — not use it in their finished films.
While Gregory Nava and Anna Thomas broke this rule by using footage shot during the labs in the final cut of their movie, they apologized to Redford and all was forgiven.
Redford: But for me, the memory was: this was our first lab, and we happened to have our first project be about Mexican-American communities. That made me feel good.
And that idea — of including historically underrepresented filmmakers — continues at the Sundance Lab today. 
Frances Bodomo was born in Ghana and studied film at Columbia and NYU. At the lab, she worked on her first feature film, "Afronauts." The film is set in Zambia in 1965, a year after the country gained independence from Britain. It centers on the newly formed Zambia Space Academy, where a 17-year-old female astronaut is trying to find her place.
Bodomo has been working on the film for four years. She says she's wanted to quit the project many times, but she's always drawn back.
Frances Bodomo: It's talking about Africans in the independence era and this really big desire to prove yourself. And so, to me, I feel like a lot of my childhood as an African not in Africa has been trying to prove yourself, trying to explain yourself, trying to say "I'm as good."
But how many of these filmmakers actually go on and complete their movies? Ilyse McKimmie, the Lab's director, estimates about 60 percent of movies supported by the Sundance Directors Lab are actually made. 
That means three of the eight filmmakers won't go on to finish their films. So naturally, the fellows this summer were feeling the pressure.
Making the movies
The Lab can be summed up in one word: intense. 
Kibwe Tavares: You have a lunch meeting where you have to talk about your whole idea and your whole project. Then you have a dinner meeting. Then you have like some workshop in the evening, then you have a screening. And in each one you're kind of questioning what you're doing, who you are as a person. Why you're doing it.
Tavares is a London-based filmmaker who'd come to the Lab to workshop his first feature film, "The Kitchen." It's set in London in the near future — where the divide between rich and poor has only gotten worse. Before coming to the Directors Lab, he thought the program would be a place where he would just think and talk about his film. But that's not all you talk about.
Tavares: You sit in different sizes of circles and talk about your emotions. Before, I had about two or three emotions — then I realized I've got about 20. [laughs]
The lab is sort of like a bootcamp designed to get you out of your comfort zone and force you to question your assumptions as a director. Each filmmaker brings four scenes he or she wants to work on at the lab. But it can be a painful process, because those scenes are often the ones that are giving the filmmaker the most trouble.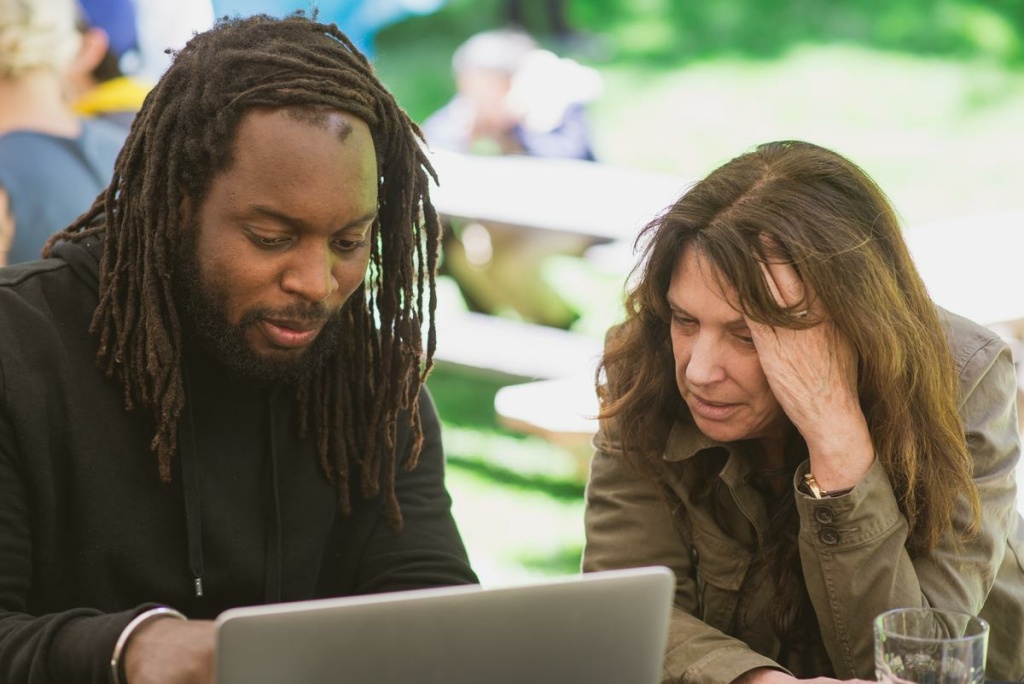 Bodomo: And so basically I picked four scenes that I felt were really emotional and not — you know, the movie's about the space race, it's about the Moon, it's about rockets. There's all this visual stuff that it's easier for me to live in, like the poetry of this world. But I'm deathly scared of these two-person scenes where everybody's talking about this big stuff and there's no gimmicks to hide behind. So I picked four such scenes to work on here.
Bodomo and her crew transformed a cramped and un-air-conditioned garage to look like a tent in the middle of Zambia. She was getting advice from one of the mentors at the Directors Lab: Oscar-winning actor Chiwetel Ejiofor.  
Bodomo: It's weird that it's become normal now to just be surrounded by some of the most famous people you've ever been surrounded by. The first week we had Glenn Close, and this week Chiwetel Ejiofor. I think, it was wonderful to have him, because when he showed up on my set I was like, low-key freaking out. Because I was like, this is a scene that could be so melodramatic, I don't know how to necessarily make it not that, but I know I don't want it to be that. But because he's an actor and he's such a talented actor, and such an experienced actor, he immediately had these things to be thinking about.
That's the joy and pain of doing the Sundance Directors Lab. The filmmakers are asked to work on the most difficult aspects of their films while exploring their emotions — and they're doing it all in front of some of the most accomplished people in the business.  
Sachs: I remember leaving here feeling like an arm had been cut off. There was a sense of violence, but also of care.
Sachs is here as an advisor, but his 1998 movie "40 Shades of Blue" went through a number of rewrites after his time at the Lab. And it wasn't until seven years later that he actually finished it. The film ended up making its premiere at the Sundance Film Festival, where it took the Grand Jury Prize — the top award at the festival.
Sachs credits the Directors Lab for helping him find his way as a filmmaker. And now, as an advisor, he is back to help others discover their voices.
Sachs: I think it's Mike Nichols who says, directing is like masturbating — you never see anyone else doing it. There's a sense that this is a place where you actually do. And you watch. And one of the things you can say is, you can try this differently. And you realize that that's really something that's this extraordinarily unique moment where people can talk about how other people do things.
We saw Sachs at work when he visited Cervantes' "Hot Clip" set. A day earlier, Cervantes, his advisors and his two actors were running through the same scene, but it was hard just to get the rehearsal to work. On this day, the pressure was really on. It didn't matter if he was struggling the other day — he had to get this scene on film. The crew was standing by and cameras were about to roll.
As Cervantes told us, it wasn't the first time at the lab where he'd been riddled with self-doubt.
Cervantes: It's a good thing I have my best friend, Vince Arena, who's producing and acting in the film, who's known me for a long time, pulled me off to the side and was like, "Dude, what the hell is going on? Like, why?" You know. So I just apologized to everyone and said, "Let's just get the three shots we need to tell the story and call it a day." And we wrapped like two to three hours early
Michelle Satter is the founding director of the Sundance Feature Film Program, which includes labs for screenwriters and composers. 
Satter: The lab was a program that Redford created in 1981, and it was to find, identify really exciting new voices from all over the country and provide a place to learn, to discover, to take risks, to push the boundary of these filmmakers' work.
And that idea of pushing boundaries, of taking risks, is what the program's all about. Everyone at the Directors Lab knows it's OK — and it's even expected — that you fail. And for filmmakers like Bodomo who went to Columbia and NYU film school, there's a huge freedom in that.
Bodomo: It took me back to why I wanted to make films. You know, I got a lot out of film school. And I started not knowing how to put two shots together, and came out with two shorts that are going to festivals. So I can't say — like, it was a good thing that I went. But, I think I entered film school wanting to experiment and just like, throw paint at a film reel and see what it was. And see what this medium could be. And immediately it became a sort of, what would you call it, repressive force — do it right, do it well, do it small. Be right the first time you do it. Otherwise people are looking at you like, "Hmm, does she know how to do this? Is she worthy of our time?" And that's really coming from the students, really.
While the Sundance Directors Lab is a shift away from the film school mindset, it's also a shift away from the movie business mindset.
Bodomo: I mean at the end of the day, being a woman, being a person of color and making movies, you're always often questioned by people on your crew. Sometimes for good reason, but a lot of times just because they've never worked with anybody like you, and I think coming here, everybody has worked with anybody of any stripe. And so they're kind of just used to being like, you're the director and you're in a learning process.
In some ways, you can see the work at the Sundance Labs as a critique of Hollywood and the Academy of Motion Picture Arts and Sciences — where white men get most of the credit and most of the jobs.
Redford: I'm not in a position to criticize Hollywood or the Academy — I'm a member of the Academy.
Redford founded the Sundance Feature Film Program in the early '80s — four years before he started the Sundance Film Festival.
Redford: My way of going about that is to use the Sundance Institute and the Sundance Festival to enhance women in film, minorities in film. And I thought the best way for us to do it — don't criticize the mainstream. Don't criticize the Academy. Don't criticize Hollywood. Just put it out there on your own. And let it be seen. So we've used the lab and the festival to make that statement, rather than me making a position of criticizing.
And the proof was right here, where out of the eight filmmakers in this Directors Lab, five of them were women and the majority were people of color.
Cervantes: I want people from my community to see like, "Oh damn, this dude made it. He's from my 'hood. He's a Chicano, you know."
For Cervantes, growing up in Southeast L.A. and being given this opportunity to make his first feature film with the Sundance Institute gives him incentive to set an example.
Cervantes: And I want Mexican-American kids — or just anybody really — to be like, "Oh, I can make that movie. If he made it, I can make it." That's a big, like that would be the best thing ever. As far as what I want people to take away from it, is I want people to see this side of Mexican-American identity that is often overlooked and approached from a nonconventional way and be like, "Oh man, this is how these people live," and feel connected to a culture that they might not be a part of.
As Cervantes shoots the last scene of "Hot Clip,"  he seems confident, in charge, happy and coming into his own. Not someone else's idea of a filmmaker, but his. That's the point of this whole process: the lab, the mentors, the support — to find your voice, and find a way to share it with the world.
Come a year or two from now, Cervantes and "Hot Clip" could be back in the mountains of Utah — this time at the Sundance Film Festival.