Ever want to enter a "South Park" scene? Now, you can — thanks to an interactive exhibit at the Paley Center for Media in Beverly Hills. 
The adventures of four profanity-spewing boys from South Park Colorado have won millions of viewers, a few Emmys, a Peabody, condemnation from the Parents Television Council and wormed its way into the world's consciousness. Now as the TV show approaches its 20th season the irreverent series from the brains of Trey Parker and Matt Stone gets the kind of retrospective befitting the best in TV.
Chris Brion, the creative director for South Park studios says when they decided to do something for their 20th anniversary, they asked fans on social media for their favorite episodes. The idea was to create small sets and scenes that people could step into or pose with.
One installation is of Cartman dressed up as a cardboard robot from the episode "Awesome-O" who takes a few shots at Adam Sandler's movie choices.
When asked about any blowback "South Park" gets from skewering celebrities, Brion says if it happens, it's not his responsibility.
"I don't have to deal with that, that's Matt and Trey," he says. "I don't know if any one celebrity has said anything to them, but it's one of those things where they're going to do what they're going to do."
Visitors to the South Park exhibit can take a seat at Cartman's Tea Party, or claim the throne at the right hand of Satan, or plop down on a pair of inflamed testicles.
That last installation is from an episode entitled "Medicinal Fried Chicken" in season 14 featuring Stan's dad, Randy.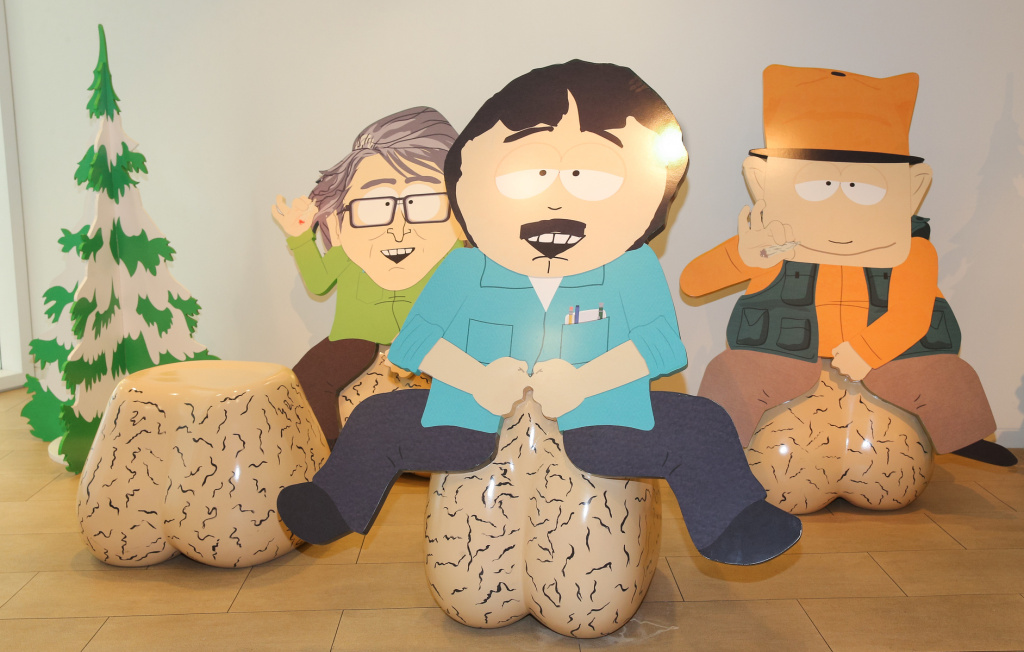 "Randy gives himself cancer of the testicles so he can get medical marijuana prescription," Brion explains. "So that's why all the men are bouncing on their testicles.
So, when starting the show, did he ever imagine he'd be in a museum where people could sit on giant inflamed testicles and pretend to be characters from the show?
"I think that's the hope of everyone who's worked on a TV show," Brion says.
As we walk past a selection of original pre-computer, hand-made animation cells, Paley Center Program Director Rene Rayes explains how the "South Park" brand of humor has often masked more serious issues.
"They offer political and social commentary no other show does," he says. "And they developed an animation technique where an episode can be turned around in 6 days. So they can be incredibly topical. So now as they approach their 20th season, how much fun are they going to get out of the election?"
With 20 seasons on TV, 260-plus episodes and an exhibit at the Paley Center for Media, you might wonder if "South Park" has become mainstream. Brion says no, but he does think the show has matured.
"I don't know if we're mainstream per se," he says. "I know there are times when I've read scripts and said they can't get away with this, but that's the beauty of the series is that if there's something the network say you shouldn't do that, they find a way to make it work, and that has caused them to become smarter about what they do, it's not about the blatant joke, it's finding a clever way to get that point across.
Also on display, 20 paintings by artists inspired by the show, all hand picked by Ron English, and there will also be screenings of fan favorite episodes.
The free exhibit runs from August 24-September 25.