Before President Donald Trump issued his executive order barring Syrian refugees from entering the United States indefinitely, there were a number of filmmakers bringing the stories of these refugees to the Sundance Film Festival. Among the three documentaries about Syria screening in Park City this year was "Cries From Syria," which airs on HBO March 13 — the sixth anniversary of the Syrian revolution.
The film's director and producer is Evgeny Afineevsky, who was joined at Sundance by one of the film's subjects, Kholoud Helmi. Helmi is a Syrian journalist who worked underground in Syria, then had to flee to Turkey when her life was in danger. 
The documentary "Cries from Syria" was compiled from hundreds of hours of footage taken by activists, citizen journalists and others working inside Syria. It's an effort to tell a broader story of who the people are, what they've faced in their country and why so many have fled.
Afineevsky told The Frame's John Horn that as a filmmaker he felt "a duty and obligation to bring these stories that are not coming through the media" to the public. He said he wanted to use footage from people in Syria to go beyond what is commonly seen in the news.
My goal was to put it in perspective and to translate every thing that happens — reconstruct the history and to help the people to understand the Syrian refugee puzzle and to express it through their voices. For me, it was important that they tell the story.
You can hear John Horn's conversation with Afineevsky and with Syrian journalist Kaloud Helmi by clicking the play button at the top of this page. Below are excerpts from the interview.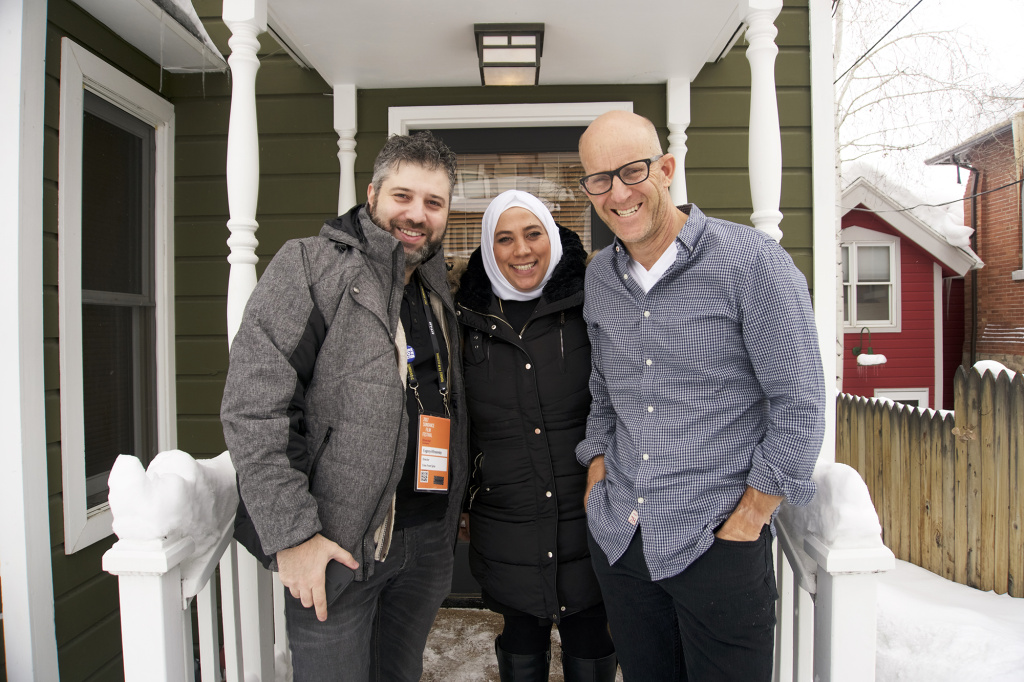 Interview Highlights
The desire to help Syrian refugees be understood
Evgeny Afineevsky: The refugee crisis is a bigger crisis than the one the world after WWII experienced. One of the biggest goals was to educate people. For me, one of the biggest elements and challenges was to put together a comprehensive story versus using small segments that come in bits and pieces. My main goal was to educate the world and to try to help the Syrians be understood — that they're not terrorists. To open hearts and brains so that people can help them understand them and not fear them. 
Being a Syrian journalist who had to flee her country
Kholoud Helmi: From my own perspective, back in 2011, we were 'freedom callers.' We had a dream like everybody else. We started the call for change, to change the tyrannical regime and to call for our fundamental rights. Things turned over us and the Assad regime started to kill people and detain them.

It was crazy for everyone. Imagine yourself sitting in your home and then a bomb that hits the whole building or the whole neighborhood even and kills thousands of people. Then you have to flee yourself with your kids. You have to save your life.

Because of that, these people fled the country. It was not immediately. They were displaced internally. This is the point that no one knows. In November 2012, I was forced to leave my home. At that time, I realized the meaning of being displaced: To leave everything behind and run in your pajamas just to save your life.

Then things got so complicated for the people. We moved from one place to another to another. The regime keeps following and tracing these people, killing them and imprisoning them. Then they have nothing to do but leave the country.
The sorrow of being a refugee
Helmi: It feels like you lost everything. You left part of you and all your memories to flee your home and then be in a place that you don't know, surrounded by people that you've never met before and having nothing in hand. It kills you to have the dream to know that you might be back in a week. When we left our home, we all believed that it's one week and then we'll be back. But now it's six years. 
On choosing to include graphic scenes in the film
Afineevsky: I think I was following my intuition. Remember, I am an artist still, and I am a filmmaker. I was following my intuition not to cross this line, but in the same time to show enough evidence to prove war crimes. To prove what they were going through so people will understand why Syrian people would need to leave their country and that they still want to go back.

But they do not have a choice. Either they die in Assad's presence or die under the Russian bombs. The only choice is to survive, is to leave the country and find some temporary shelter. 
On having to work underground in Syria as a journalist reporting on the regime
Helmi: We were living in Syria and we were just reporting against the regime and recording and documenting the atrocities committed by the Assad regime to the universe. We were working underground, and we were taking the risk that at any moment the regime is going to break into our houses, arrest us, kill us or do whatever.

Till the moment that I left Syria on my way to Beirut, I was pretty sure that I will be caught by the regime forces at any moment. Any single moment. But I survived while others were caught by the regime and were killed under torture.