​What will get you to leave your house, get off the computer, and go a movie theater?
It's an existential dilemma that theater chains have faced for years now. Some ploys have involved luxury seating with pull-out footrests or fully stocked bars. But what if you're a kid? Now the Cinépolis movie theater company has opened a location in the city of Pico Rivera near LA where indoor slides and bean bags are the draw.
Imagine any movie theater auditorium you've been to with stadium style seating.  Now, overlay scores of elementary school-aged kids cheerfully and loudly kicking off their shoes... then running to the top row of seats!  
A staffer tells the group of excited children: "Excuse me.  You have to take off your shoes OK? You can't be on here with shoes.  If you need socks, we have socks over there OK?  Thank you."
Once the shoes are off, kids can hop on a giant multi-colored slide made out of large tubes that runs along the entire wall on one side of the theater.  For 6 year olds Audrey Becker and Everett Riskin—it doesn't get any better.  
"I had so much fun!" say Audrey.  
Everett added "I was like wow! This place is awesome."
At the bottom of the slide is a larger playground area for smaller kids.  Green plastic crocodiles with big smiles and red fluffy bean bags pepper the space. Laughter and joyful games of tag pop up everywhere.
Welcome to Cinépolis Junior.  It's the latest offering from  Cinépolis—a luxury movie theater company founded in Morelia, Michoacan, Mexico back in 1971.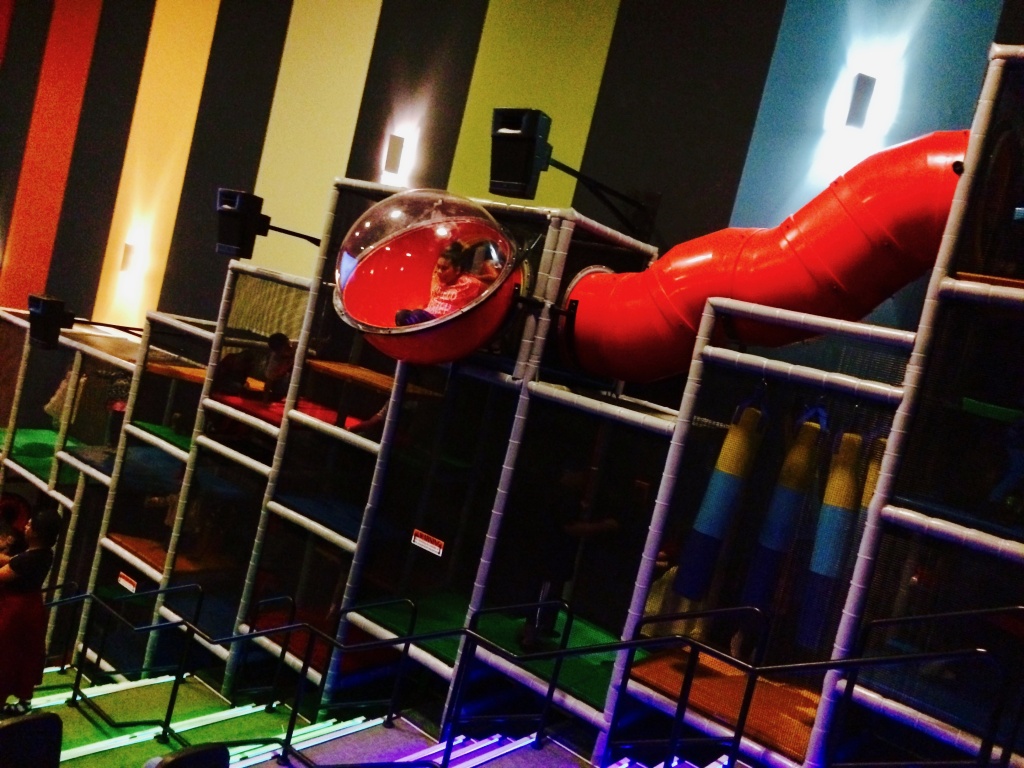 "The slogan in Spanish is 'Cinépolis—La Capital del Cine.'  So we are like the metropolis worldwide of movie theaters," explains Adrian Mijares Elizondo.
He is the CEO in charge of some 40,000 employees in 13 countries.  But—Elizondo is quick to point out, even he has to answer to a higher power.
"I have 3 kids.  And when they are around 3 to 5 sometimes it's quite difficult to take them to a restaurant or a movie theater.  Sometimes it's a little frustrating.  Because my older kids, they already behave perfectly in a movie theater and I want to take them.  But then I have my 3 year old—which is maybe not that domesticated as I'd like."
"I'm sure you've been on a flight where a kid is maybe screaming or not feeling that well.  And the parents sometimes they are more worried than they should be because you are in a close space and you think that everyone is hearing and watching and judging you."
To erase that stigma of kids-just-being-kids inside a movie house, Elizondo says his company started testing these Junior auditoriums 3 years ago. First in Costa Rica, then Spain, and now here in Southern California. 
Here's how it works.  You pick your movie time like normal— but you get there about a half-hour early.  That's when the playground opens up.  This way the kids can play, play, and more play some more before the film starts.
"It's sometimes like a dinner, at least in my house," laughs Elizondo.  "You don't want to sit the kids on the table too early before dinner is on the table because by the time you bring dinner—they might be gone!"
Jessie Bliss is here with her 3 year old daughter, Orelia, to see Beauty and the Beast.  
"And I say thank the heavens for any opportunity to get your kid to move and sweat and jump and run and play!" says Bliss.  "And she's having a blast—and so then she is going to sit there and feel so calm and restful throughout the movie."
But if you take a look at little Orelia and then look up at the giant slide structure filled with kids—which seems almost like a life-sized ant farm—the question of safety is sure to pop up for parents.  
Bliss says "Oh now, wait a second, now that I have a closer look— I must say that if someone were to get hurt it looks like it would take some serious effort to crawl in through all of those layers to get to your child. I would fly if I had to!"
Not to worry says theatre manager Anwar Lopez.  He assures us that staffers are watching the kids and they test the equipment daily.
"I have to do it every morning to make sure everything is going smooth.  And nothing is broken," says Lopez.  "If it can hold my weight it can hold a kids weight.  [I weigh] 220 pounds. So that holds it.  If it holds me it can hold any kids weight!"
Lopez chuckles and then immediately launches into the pre-show announcement:
"Are you guys excited? Yes!  I can't hear you.  Are you guys excited?  Yes!  The show is about to start.  Grab your popcorn and grab your seat.  Enjoy the movie.  Then we'll have a 15 minute intermission."
Wow, when was the last time you went to a movie with an intermission? Well, at  Cinépolis Jr.—that's how they do—so kids get another chance to play mid-movie.  So let's jump on ahead to that break to catch up with Genevieve Becker while she keeps watch on her 6 year old daughter Audrey.
"It's insane. But she's having a good time.  Look at her!" says Becker. "I have a feeling she probably has to go to the bathroom—but she'd rather be in there playing than take care of her bodily functions.  I think she'd rather play in here than watch the movie.  In the middle of the movie—did you see her?  She walked up to us and asked us if she could play instead of watch the movie.  I said no, we'll take a break in the middle of the movie and then you can play.  But now it looks like she is sitting down so I guess she can't make up her mind!  I should probably check on her, come with me!"
It's clear, Audrey is having a ball.  But she did feel some kids needed a timeout.
"When I was going to go down the slide, so much people was going up the slide! I didn't really like it.  I had to say 'Scue' [sic] me so many times.  And they didn't listen," explains the young girl. "And I say it again, and then they listen and then more people come. I want them to never climb up the slide, never never never.  It's so bad.  And also big boys were doing it!"
More staffers to watch the rough-housing and enforce safety rules would be welcomed says parent Steve Riskin who came with his 6 year old son Everett.
"He loves this kind of stuff. Little boy, you know.  He's very adventures.  He likes to climb things.  There's really no one watching them.  I'm sure they're fine—but that was my only concern."    
On the flip side, the only concern Everett had: how to get back up to the top of the slide where the view—he reports—is fantastic.
"You go inside and you can look out the clear part!" cheers Everett.  "It's really cool because you get to see everybody doing things and you can see everybody getting seated and playing.  If you look behind you, you can see everybody behind you running around."
While all the running around and noise takes a toll on some adults—most seem to take it in stride.
"They need alcohol at this place.  They need alcohol and a short-cut to the bathroom," whispers Ardith Ibañez.  Today, she's here with her son Cedro who takes a break from playing to munch down on the concession stand spread that Ibañez sets out.
"I've got mini corndogs, a hummus plate, sliders, cheese plate, french fries," Ibañez tell her son.
"Um, I need water," replies Cedro.
Ibañez says  Cinépolis Jr. is super fun idea overall—but there are pros and cons for parents.  Those corn dogs, fries, and variety of other snacks for Cedro and his friends set her back a cool hundred bucks.  
"It adds up!  I also think they need a place for shoes," says Ibañez.  "It was kind of every man for himself when we got here.  They need cubbies to store diaper bags and shoes and stuff.  It was also kind of noisy—I'm not sure I watched the movie.  Kids were talking throughout and getting up and kicking the seats.  But maybe that's what this is about—really the is not so much the adults hanging out at a movie with kids. It's adults doing a movie for kids.  I'm not sure I'd come back."
Maybe not, but if you turn to her son Cedro and ask if he would come back to play and watch a movie here—his answer was simply:
"Yessssssssss!!!!!!!"
This story was written and produced by Marcos Najera for The Frame.