After only one season, Netflix has announced it is pulling the plug on "The Get Down," an ambitious and expensive series about the birth of hip-hop.
Largely the creation of Australian filmmaker Baz Luhrmann, "The Get Down" traced the rise of hip-hop through a fictional group in 1970's New York. The series was plagued by creative battles, cost overruns and production delays. 
The first season was actually split into two installments, because Luhrmann and his team needed more time to finish episodes. Reviews of "The Get Down," the first foray by Luhrmann into television, were highly polarized.
We sat down with Luhrmann a few weeks before Netflix announced the cancellation. At the time, he told The Frame that he had a commitment to direct a feature film, which was going to make it impossible for him to return to "The Get Down" if there were a second season. 
When we reached out for comment today, Lurhman wrote The Frame: "I feel such emotion about this ... just how much outpouring of love and true sadness that has been expressed about the show not continuing in the near future. Having said that, almost everything I make tends to resurface at some point in an unexpected way, and I can't believe that the spirit of 'The Get Down' will simply disappear quietly."
Interview highlights:
On wanting to tell the origin story of hip-hop:
I always had, for many years — 10 years — wanted to help this pre-story of hip-hop get told, just because I myself, as someone from far away, [wondered] how these young kids who had nothing, no music courses, [could think], What can I do with two records? So I started with that question and I thought I'd have a whole lot of other people [involved], because it's not my story. I'd curate that story. It didn't start off that well. It got bogged down and I got asked by Netflix and Sony, would I come in the middle of it? Otherwise, it wouldn't get made. I did and two years later it's been my complete life. And my complete privilege to be part of it. 
On what made the series difficult to make:
When we started out, Netflix was on the rise, but they weren't where they are now. Streaming wasn't where it is now. But the ambition of the show. .. imagine: set in the Bronx, musical numbers, hip-hop and disco. Oh, and Latin hustle. Oh, and a little bit of punk. Oh, and voguing. And most importantly, it could only work — and I insisted on this — if the leads were unknown, African-American and Latino kids. You can't get that made in the movies. That sort of risk cannot happen.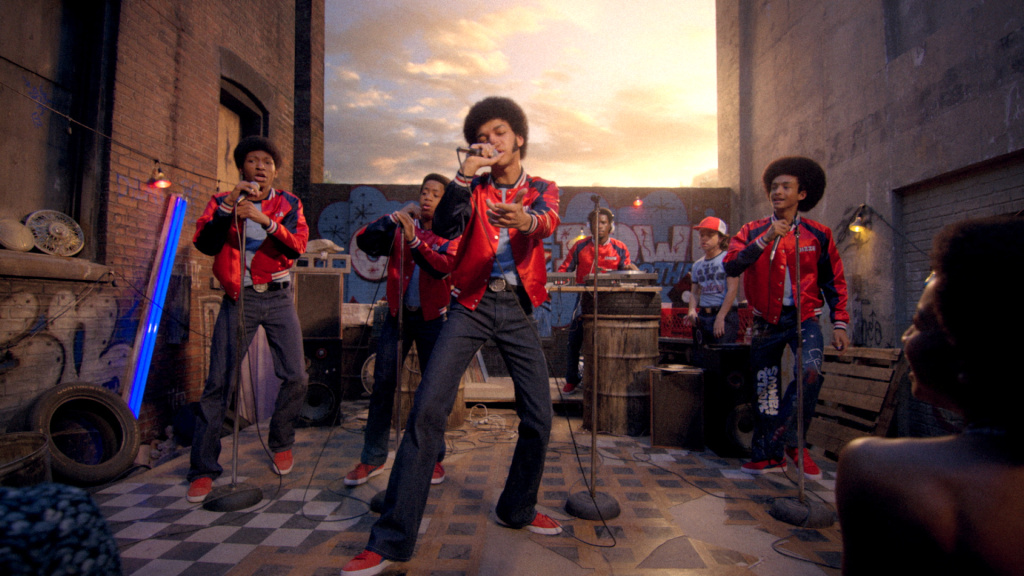 On why the story of "The Get Down" is better for TV than film:
It's too risky. When you're talking about The Bronx in '77. [Grandmaster] Flash, [DJ Kool] Herc, [Afrika Bambaataa], they were all part of this. Flash was intricately involved [in the series]. Or Nas, who got behind it really early and has been there all the way through. Anyone involved in this project has been involved because they believed that this story really needed to be told. But, if this story is about individuals who affect crowds and audiences and a new form of music — a new form of dance and a form of culture that not only changes the borough, but New York and the world, that I in the '70s am hearing about it in a small town called Heron's Creek — it's going to involve a lot of people.
On why hip-hop was important to him, an Australian:
You might be in the Bronx, but socially and in terms of the globe, there was a feeling of being far away and isolated and looking for self expression. Now maybe I'm going too far, but I really related to the idea, no prejudice. It didn't matter whether the music came from Kraftwerk. They may not know who Kraftwerk was. Or it came from Japan. If it was great, How could we put different kinds of music together, speak over it to make something new and affect an audience? To me, I think I was inspired by that. No prejudice. The ability not to [ask], Is that tasteful? Is that cool? Forget that. Does it work? Does it affect an audience?
On the lasting impact of working on the show:
First of all, we've made true friends. I was on the show with Nelson [George] or Flash, and that never goes away. You've been privileged to be in a world and you connect with other artists and you make friendships. But there comes a time when you've got to stop living it. I had to put off other projects for two years to become immersed in the world. And not just me. My wife, my family and my children — we've all lived it. There comes a moment when you've got to emerge back into the real world, so to speak, and having to deal with that. There's no "The Get Down" at the moment when I get up.