Among the 10 top grossing movies at the box office this past weekend are kick-ass action film "Atomic Blonde" starring a female spy, female superhero blockbuster "Wonder Woman" and comedy "Girls Trip" about four African-American women. But that's far from the norm.
Researchers at USC's Media, Diversity and Social Change Initiative released a new study Tuesday titled "Inequality in 900 Popular Films." They tracked portrayals of people by gender, race, ethnicity, sexual identity and disability between 2007 and 2016.
The study's lead authors, Stacy Smith and Katherine Pieper, spoke with The Frame about their findings. They stressed that they weren't simply looking at the number of people being hired by Hollywood, but how they're being portrayed on screen.
INTERVIEW HIGHLIGHTS
On the quality of representation on-screen:
Pieper: When you look at the tendency for female characters to be sexualized compared to their male counterparts, when you look at the data and realize that teenage females are just as likely as young adult women in their 20s and 30s to be sexualized, when you look at the portrayal of LGBT characters and you realize how few get to be parents or in relationships, when we see characters with disabilities clocking in at just 2.7 percent of all speaking characters, it's not just who's getting to work but it's what they get to do on-screen when they get these jobs.
On how diversity behind the camera can influence on-camera representation:
Smith: We've done a lot of work on female directors and the types of choices they make. And we know that when female directors tell stories, they have more female-speaking characters on-screen, more females at the center, more women 40 years of age or older on-screen, more racial and ethnic diversity on-screen. And they hire women in other key production roles behind the camera. So we've found that with other research that we've done, and what's so remarkable here is that one way in which Hollywood can start to change the landscape of what we see on-screen is simply by being more inclusive behind the camera.

But across the nine-year study, that's not the case. And if you think about not only what Hollywood thinks when they say female director, they're thinking about a Caucasian woman. Only three black female directors are within this time frame working on one of these top 900 films. Only two Asian women and one Latina. So we really see an occupational crisis behind the scenes, because there are plenty of women and women of color that want to direct that are simply not getting the opportunity.
On how/if women are central to the stories told on-screen:
Pieper: Particularly when we look at genre, there's fewer women in action or adventure films, under a third of the characters in animation are females. We're not seeing these women going on journeys. They're not the leading characters and they're not necessarily an essential part of the plot. They're off to the side, they're taking care of the kids, they're dressed in a particular way to appeal to certain male characters on-screen.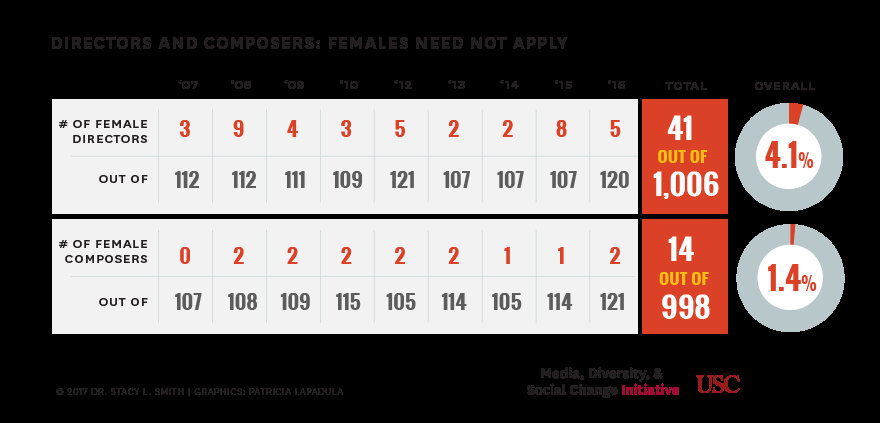 On the lack of roles for women of a certain age:
Smith: If you have kids or teens on-screen, roughly half of those characters, those roles are being filled by females. But once you hit 21- to 39-year-olds, or characters 40 and above, females really drop out — particularly 40 and above. And so we're missing seeing powerful women who are really hitting their stride in the most interesting and powerful roles. There are very few opportunities being given to women in that age bracket.
To listen to the full interview with Stacy Smith and Katherine Pieper, click on the player above.