While Virtual Reality has been "the next big thing" for a while now, not everyone is trying to crack the gamer market. In fact, one company has launched a new VR experience that veers towards the more spiritual side, simulating a so-called near-death experience (NDE). The Frame contributor Collin Friesen tried it out and lived to tell about it:
In the West Wing of the Los Angeles Convention Center recently, a massive line formed to step into the back of an ambulance for the "Flat Line" VR experience. It stretched well beyond the decorative corpse under the tarp and the decapitated clown tableau. The experience debuted at the recent Scare LA gathering – think Comic-Con, but for Halloween.
Once inside, co-creator Julian McCrea sat me on a gurney.
 "We're going to make sure the headset feels snug," he tells me as he adjusts the goggles and headphones.
And like that, we're off … I suddenly have the point-of-view of a woman who suffered a miscarriage and was basically left to die in a hospital bed. Not to be graphic, but when you look down there's blood seeping through the blanket. And I'm hearing her tell her true story. Well, an actress telling me the story, as I'm sucked into a very realistic vortex. It has all the usual tropes of the near-death ride … a bright light, a feeling of calm, some scary bits — but more like just being shot down a cool tunnel.
That demo wraps up with a commentator of your choice. You can pick a doctor, scientist or a spiritualist, explaining their concept of what happens with a near-death experience. Either there's a heaven or your brain is just messing with you.  And that's it. Six minutes later, Julian McCrea taps me on the shoulder and I'm back in the world of the living.
Now, it's a little cheesy, with the waivers and the VR tech wearing medical scrubs, but the experience does stick with you. And the smell of the ambulance and the feeling of being locked in does a bit of a number on your rational brain. One of the first people in line was Fawn Quinn, who snuck over from another booth to give it a shot.
"I won't lie. I had butterflies when I went in. I'm definitely glad I did," she tells me after she climbs out of the rig.
The concept started 16 years ago when McCrea's partner, John Schnitzer, heard a story from a friend about his near-death experience, and started to wonder how best to share it. McCrea says advances in virtual reality have finally made that possible:
"That story we are trying to tell about what happens to you, is better if it's happening to you, or in first person, so that's why narratively we went down that road."
There's no game here. You're not killing aliens, or driving a Porsche through the Alps, or even trying to cheat death.  This is a thinking – dare I say it – quasi-spiritual ride.  And McCrea says they're not only going for the young thrill seekers, but also that elusive NPR demographic, like the kind that listens to Krista Tippett's high-minded show, "On Being."
"If you're a thinker, a person who reflects," says McCrea, "you can come into 'Flatline' [thinking], I now know something more than I did. So I think that's the right audience."
Ted Dougherty is a VR director and theme attraction consultant. He liked the ride, but agreed that finding the audience will be the challenge:
"On the outside, it seems like it's going to be macabre. At the end of the day it was an uplifting story, so I'm not sure this is the perfect thing for a Halloween type of situation. But these types of attractions can be monetized, so the possibilities are definitely there."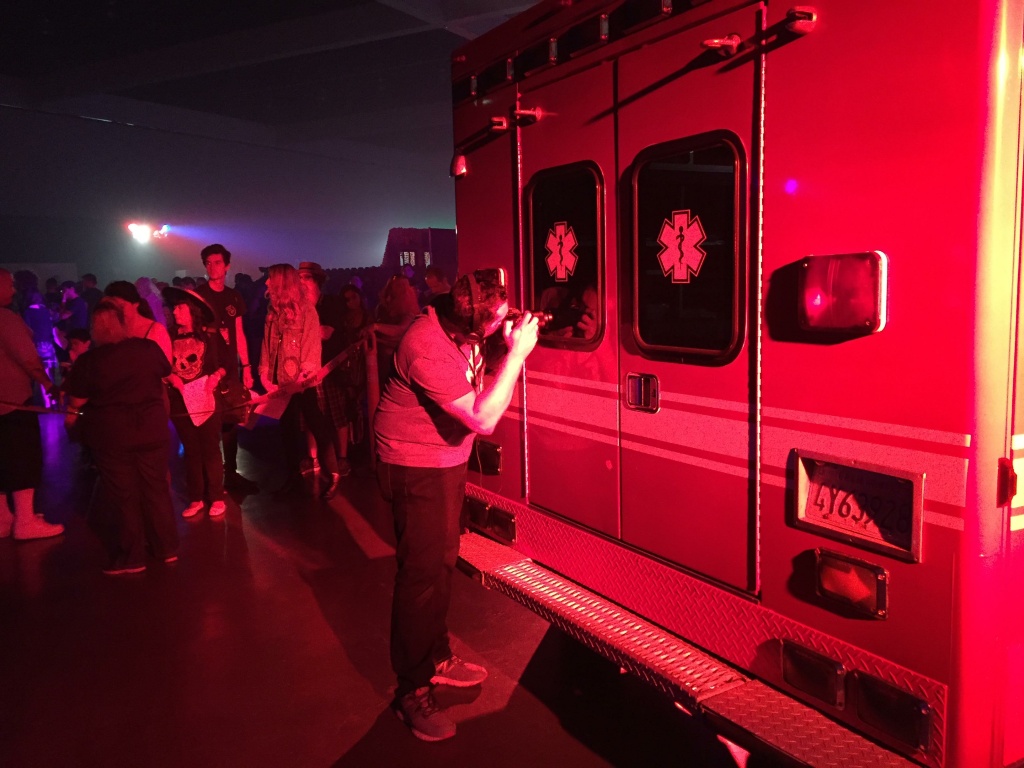 This is only the pilot, but McCrea's company will be coming out with five other episodes, available for purchase on most gaming platforms. That will make it not only the first semi-serialized near-death VR experience, but the first time in history that Krista Tippett fans have been singled out as a gaming demographic.
To hear the story click the play button at the top of the page.