Take 140 hours of pristine, unseen footage of a rare moment in history, a score from Philip Glass and an unusual love story, and you get the operatic Garden of Eden documentary that is "Jane."
The documentary is about Jane Goodall, the most famous female scientist in the world, despite never having any formal training. She was a secretary for paleontologist Louis Leakey before setting out to live among chimpanzees in Tanzania in the 1960s to document their lives.
Now 83-years-old, Goodall has appeared in countless films since her first expedition. Much of her work has already been shared with the public, so she was initially not interested in being part of another movie about her life. Apparently, neither was the director, Brett Morgen.
Morgen had just released his Kurt Cobain documentary, "Montage of Heck," when he received a call from National Geographic. Though he wasn't too interested in the idea, National Geographic sent him hours of never-before-seen archival footage of Goodall, as well as a short film narrated by Orson Welles, "Ms. Goodall and the Wild Chimpanzees."
After seeing the rare footage, Morgen realized there was more to Jane's story than just a straightforward scientific documentary. He convinced Goodall to tape a new interview for the film and he commissioned composer Philip Glass to write the score.
When Morgen spoke with The Frame's John Horn, he talked about how "Jane" came together.
INTERVIEW HIGHLIGHTS:
On what made Morgen agree to do the film:
The reason [National Geographic] called me was because of my work with archives. And they had recently come across 140 hours of 16mm film that was shot during Jane's initial expeditions in Gombe. So I get on the phone with them and I still had no interest when I got off the phone. And they said, Well, could you look at some footage for us? And they sent me the "Ms. Goodall and the [Wild] Chimpanzees" short film that was made in 1965, narrated by Orson Welles. The footage itself was some of the most remarkable 16mm material I had ever laid eyes on.
How Morgen convinced Jane to be interviewed for the film:
To her credit, Jane — even if I told her that our interview was going to be seen by countless, millions of people — would prefer to spend the afternoon with 15 kids in a classroom somewhere in Kenya. The last thing Jane cares about is the media, particularly another documentary about her life. So she totally rejected us. Finally, we got her to agree to a two-hour interview … which became a two-day interview. As we sat down to do it, the first question I asked her was, Jane, how do you feel about telling your story? Does it get tiring telling your story as many times as you have? And she looked at me with no smile and said, Well, it depends on who's asking the questions.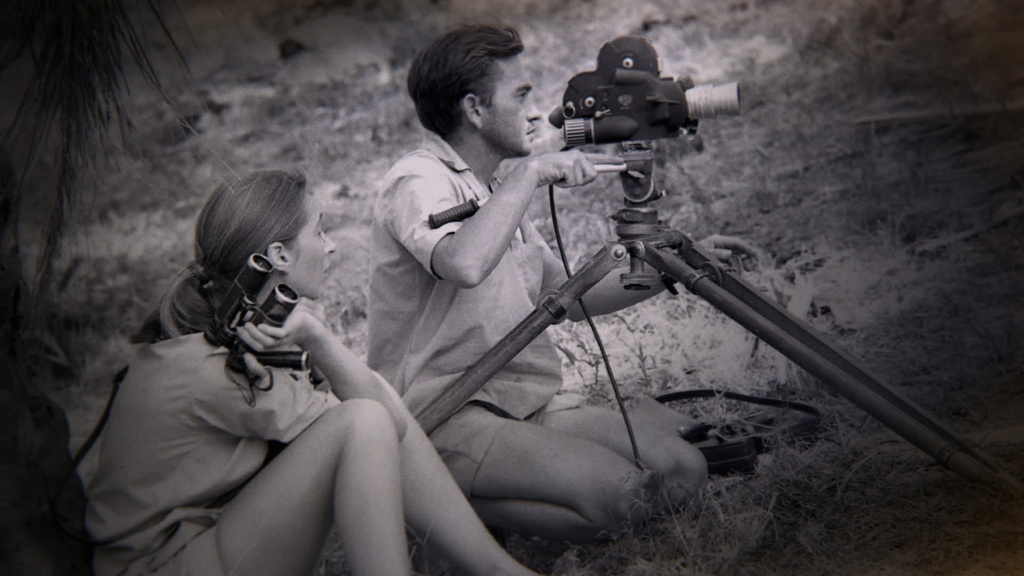 On Hugo van Lawick's role in Goodall's expedition:
He was there present to film Jane Goodall where she became the first person in the history of civilization to co-habitat with wild chimpanzees — to be able to physically embrace them, to break down all barriers. And then during the course of his filming, it was then decided that humans should not have contacts with chimpanzees. So, ultimately, what he documents is something that has never happened before and will never happen again.
How the film also captures two people falling in love:
Hugo sets about documenting Jane's work and … they began to fall in love. And what's so interesting and amazing is when you watch the film, the fourth wall gets broken down. And you start to see Hugo behind the lens, falling in love with his subject in front of the lens. And you start to see her looking back at him.
On the great quality of the archival footage:
You have to remind yourself that this footage was shot in 1962. And yet, Hugo was an absolute perfectionist. He refused to shoot any shot that was not properly exposed … Part of that was that this was his first real assignment, so he didn't want National Geographic to receive any footage that didn't look good. So I went through 140 hours and there was not a single shot that was underexposed. There was almost never a shot that was overexposed. Fortunately, National Geographic had understood early on the historical significance of this material and they stored it in optimum conditions. So here we come, 55 years later, and there's almost not a scratch. This footage is preserved as if it were in the bottom of the ocean all these years.
On the score by Philip Glass:
Pairing up an icon like Jane with an icon like Philip is just a perfect marriage. But I also felt Philip brought a gravitas that I feel is warranted and necessary with a subject like Jane, who had done stuff that will never happen again. What I was concerned about though, with Phil, is that his music — for those who aren't fans — can tend to be very cold and clinical. I don't have that feeling, but I think it's a constant criticis. … And I needed him to deliver an emotional score. Philip delivered the first five cues and I was listening to them with my wife, Deborah, and she said to me, I think Philip's falling in love with Jane. And I was like, I think you're right. And I got on the phone with Philip the next day. He said, I'm not sure if you've noticed, but I think I might be falling in love with Jane. I said, I am noticing, and it's fantastic. It's exactly what the film needs.
To listen to John Horn's full interview with Brett Morgen, click on the player above.