When the Antaeus Theatre Company debuted its new space in Glendale, the marquee was not yet installed. At first glance you might think a marquee isn't important anymore — you can just Google where the theater is and GPS how to get there. But Bill Brochtrup, one of Antaeus's artistic directors, thinks differently:
"From the beginning, we knew a marquee was an important part of the design of the building because we are in downtown Glendale, We need people to know that we're here … that we've arrived, that we are not going anywhere and we'll be part of this landscape for long time. A marquee says that."
Antaeus Theatre is a nondescript sandy colored building, sandwiched in between a Marshalls and a mall on a busy strip of E. Broadway.  A quick survey of people on the street revealed that no one knew it was a theater. Without a marquee, it just looked like an office building to them.
Escott Norton, executive director of the Los Angeles Historic Theatre Foundation, says marquees are crucial to theater design:
"The show begins when you're walking down the street and you see this beautiful thing and you want to get drawn into it."
 
Norton is referring to a famous quote from S. Charles Lee, one of L.A.'s most prolific theater architects: "The show starts on the sidewalk." Architects such as Lee designed movies theaters and their marquees to catch people's attention and make them want to enter a world of fantasy. Think about the the Mayan Theatre, the Egyptian Theatre and Grauman's Chinese Theatre — the very design of these buildings seeks to transport patrons to a far of land.
Marquees are often the first thing people notice at a theater, and their design has changed a lot over time. These ubiquitous symbols of showbiz tell us a lot more than just who's preforming on a given night. Their design often reflects the ethos of the theater itself, and the cultural, social and political history of Los Angeles when it was built.
In the 1910s, theater builders looked to Europe for inspiration and tried to evoke the luxury and opulence of places like the Paris Opera or Versailles. Marquees of this era were mainly focused on competing with each other to lure in pedestrians. Marquee letters were smaller, with white letters on black backgrounds easily read by people walking by. Also, they were more like rectangular awnings than the marquees we know today.
In the 1920s and '30s, a truly American style that Norton calls "Hollywood Fantasy" appears on the scene. Theaters were inspired by the most "exotic" events of the era, such as the discovery of King Tut's tomb and the opening of China. These were direct inspirations for the Egyptian Theatre and Grauman's Chinese.
During the Great Depression, fantasy was replaced by function. Economic recession, and the culture of excess that was responsible for it, pushed American designers to move away from opulence. Streamline Moderne marquees were much simpler and had fewer words and bigger letters — often just the name of the theatre itself.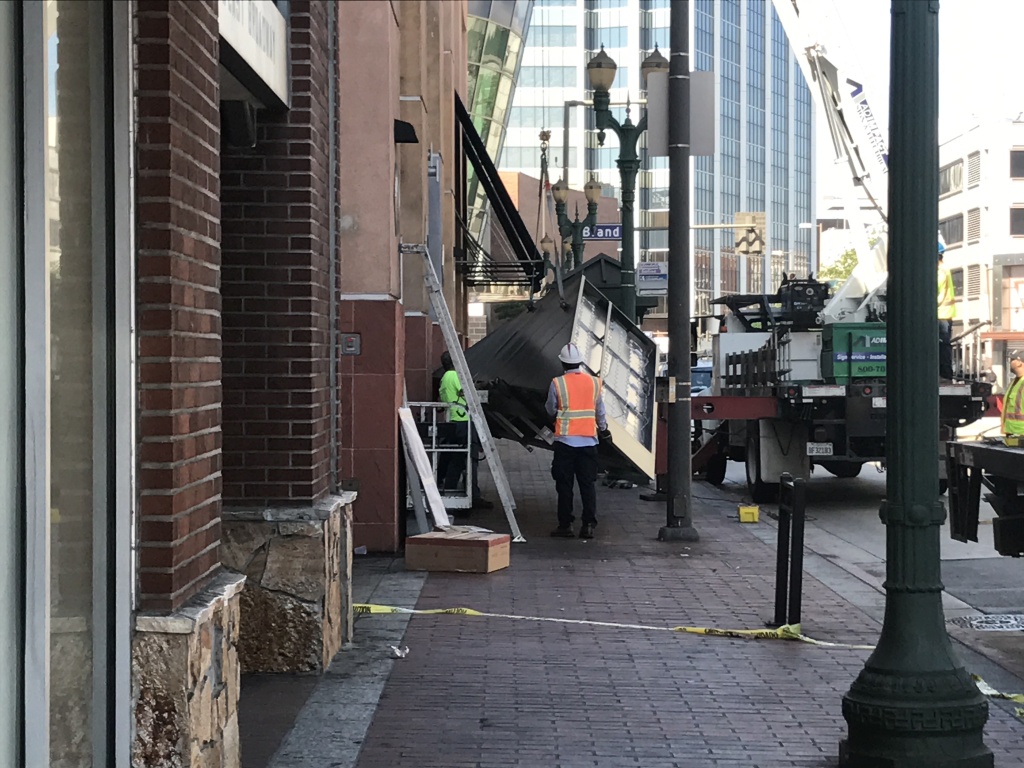 Then, car culture became the single biggest driver of marquee design for the next half century.
[Marquees] were redesigned for the car centric culture. They changed into a sort of trapezoid shape so that the signs were angled so you could see them as you're driving by.
 
World War II brought a shortage of materials. The theaters of the post-war years were mainly made of glass and concrete, which were the only materials readily available during the war and in the decade or so that followed. Marquees got even bigger so they could be seen from Eisenhower's newly built freeway system.
How does this history influence how marquees are designed today? Antaeus' marquee was finally installed this fall, but to understand its design you need some background on the company. It's a collective of actors, many of whom work in film and TV. They formed Antaeus so they could do the kind of a classical theater they originally fell in love with.  They do old plays in new ways and are exploring doing new plays with classic themes.
As for their marquee: it's got a black background, with white letters, like the classic theaters of the 1910s. But it's a trapezoid shape with big letters that can be read from a car driving by. A blend of old and new, just like Antaeus. Function and simplicity were two main factors that shaped their design committee decisions.
Now that the theater has a marquee, a quick survey of people on the street showed that most recognized the building as a performing arts center. It seems even if we don't need marquees to tell us what's playing, we still need them to pick theaters out from the urban landscape.  In the Internet age, the show still starts on the sidewalk.